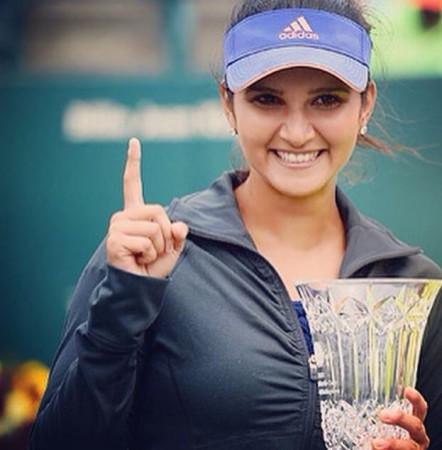 Bollywood celebrities, politicians and sports persons wished tennis star Sania Mirza on becoming the world number one in tennis doubles.
The Indian tennis star became the first Indian woman to take the number one spot in the women's doubles rankings, according to the latest Women's Tennis Association (WTA) list.
Following her victory, wishes started pouring in on Twitter from people across India. Among the dignitaries, Prime Minister Narendra Modi, West Bengal Chief Minister Mamata Banerjee and Finance Minister Arun Jaitley wished Sania on Twitter.
Bollywood celebrities including Shah Rukh Khan, Farhan Akhtar, Farah Khan, Dia Mirza, Arjun Kapoor and Shraddha Kapoor among others congratulated the Tennis star for creating history.
Saina Nehwal, who had briefly gained the number one position in women's badminton earlier this month, also wished Sania on Twitter. Congratulatory messages also poured in from cricketers Sachin Tendulkar and Virat Kohli.
Saina Nehwal: @MirzaSania World number 1 in doubles congratulations huge achievement All the very best for future tournaments
Shah Rukh Khan: @MirzaSania well done. Ur hard work over the yrs has paid off not cos u became no.1 but becos no1. needed an ambassador for the game like u.
Virat Kohli: First Saina and now @MirzaSania . Indian women conquering the No. 1 spot and making us proud! Congratulations!
Narendra Modi: An excellent accomplishment @MirzaSania! Congrats on being World Number 1 in doubles.
Sachin Tendulkar: Congratulations to @MirzaSania on being crowned World No.1 in Doubles. Terrific achievement and will inspire more to pursue the sport
Arun Jaitley: Congratulations to Sania Mirza on becoming World No.1 women doubles' player.
Mamata Banerjee: First @NSaina in singles.Now @MirzaSania in doubles. Badminton and tennis World Number 1. Congratulations. You both make us proud
Riteish Deshmukh: Pride of India - world No1 @MirzaSania - huge achievement-big congratulations my friend - hugs
Dia Mirza: You make us so proud @MirzaSania your determination is inspiring! #FellowHyderabadi #ProudIndian #DoublesWorldNo.1 #GirlPower
Madhuri Dixit Nene: Awesome job, @MirzaSania
Shraddha Kapoor: World number oneee!!! Congratulations @MirzaSania !!! #ProudMomentForIndia #HeadsUp ;) :D
Huma Qureshi: So proud @MirzaSania #GoGirl
Farhan Akhtar: @MirzaSania Congratulations on achieving the No.1 spot. And to @mhingis. You're an inspiration for girls to follow their dreams. @UN_Women
Arjun Kapoor: @MirzaSania how's the view from the top? Number 1 and killing it. More power to you
Farah Khan: what great news to fet 1st thing in the morning!!! @MirzaSania way to go babyyyyy
Shaan: WOW!!! First Saina Nehwal... And now Sania Mirza World No.1 in Doubles Tennis!!! So prod!!!
Kapil Sharma: Today only coz of you @MirzaSania India n pakistan both r celebrating together .. Proud of you.. More power to u
Taapsee Pannu: In a country where many girls don't even make it to the playground we have 2 women who made the entire nation proud @NSaina @MirzaSania #1