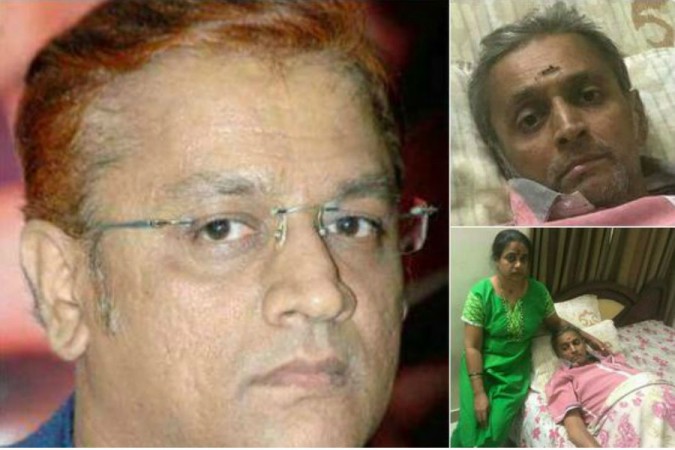 Sandalwood music composer LN Shastri (Shastry) aka Chaitanya died of cancer at his residence on Wednesday afternoon. His death shocked and saddened many of his fans.
Shastri was suffering from intestinal cancer and it was recently reported that he was in need of financial support for treatment. Sandalwoodsuddi had tweeted earlier this month: "Singer & Music Director LN.Shastri Suffering From Cancer And is in Need of Financial Support for Treatment..."
After reading the reports, actor Jaggesh — a noted comedian from Sandalwood — had come forward to extend his helping hand. Despite that, the 46-year-old singer-turned-musician breathed his last at his residence in Bangalore on August 30.
Shastri started his career as a singer with Love Love Loveah from the 1991 Kannada movie Ajagajantara, for which Hamsalekha composed the music. He went on to sing more than 3,000 songs. The song Kolumande Jangamadevaru from Janumada Jodi (1996), which gave him a career break, was his biggest hit as a singer.
Shastri became a music director with Kanasalu Neene Manasalu Neene in 1998 and went on to compose music for over 25 films. He renamed himself Chaitanya after a friends' suggestion, but dropped it due to the identity crisis for the film Bellary Naga (2009).
His sudden demise has shocked many in the Kannada film industry, who say his death has created an irreplaceable void in Sandalwood. After hearing the sad news, som celebs and fans took to Twitter to share their grief. Here are some of their comments.
ಅಲ್ಲಿದೆ ನಮ್ಮಮನೆ!ಇಲ್ಲಿಬಂದೆವು ಸುಮ್ಮನೆ!ಬೇಗಹೋದ ಗೆಳೆಯ ತನ್ನಮನೆಗೆ!ಹೋಗುವಮುನ್ನ ನೀನು ಬಿಟ್ಟುಹೋದ ಗಾನಸುಧೆ ಕನ್ನಡಿಗರ ಗೂಡಲ್ಲಿ ಪ್ರೀತಿಯಹಕ್ಕಿ:)ರಾಯರಲ್ಲಿ ಲೀನವಾಗು pic.twitter.com/40DO0IgfVr

— ನವರಸನಾಯಕ ಜಗ್ಗೇಶ್ (@Jaggesh2) August 30, 2017
Rangrajan S: Today our sandalwood LN shastri passed away. So lets all pray for his soul and pray god to give strength for his family.
Thanmayee Shringar: Great light music and film singer LN shastri is no more.He was suffering from cancer.may his departed soul attain sadgati. Om shanti
RJ Nethra‏: #LNShastri sir now only remains alive among us with his music! Deepest condolences.. #rip
Malatesh Goddemmi: #LNShastri so sad......may his soul rest in peace
Shashiprasad SM: Kolumande Jangama innilla no more #RIP #LNShastry
ಖ್ಯಾತ ಹಿನ್ನಲೆ ಗಾಯಕರು ಎಲ್.ಎನ್.ಶಾಸ್ತ್ರಿ ಅವರು ಅನಾರೋಗ್ಯದ ಕಾರಣ ಇಂದು ನಿಧನರಾಗಿದ್ದಾರೆ ಅವರ ಆತ್ಮಕ್ಕೆ ಶಾಂತಿ ಸಿಗಲಿ ಎಂದು ಪ್ರಾರ್ಥಿಸೋಣ #LNShastri

— Vinay Kumar (@Vinay_Kumar24) August 30, 2017
#LNShastri#RIP ?
ಇಂಥ ಮಹಾನೀಯರ ಬದಲು ಲೂಟಿಕೋರರನ್ನು ಆ ದೇವರು ಯಾಕೆ ಸಾಯಿಸ್ತಾ ಇಲ್ಲಾ!
ದೇವರಿಲ್ಲಾ ಅಂತ ಈಗ ನನಗರಿವಾಯಿತು..??

— Sandesh Sandy (@SandeshMysuru) August 30, 2017