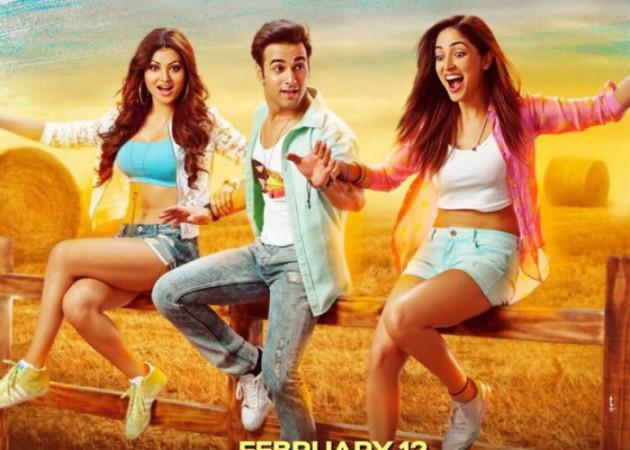 Director Divya Khosla Kumar's Pulkit Samrat, Yami Gautam and Urvashi Rautela starrer Bollywood movie "Sanam Re" has received positive review from the audience around the world.
Check: Sanam Re Review | Critics Review | Audio Launch Photos
"Sanam Re" is a breezy romantic drama film, which has been released as a treat for love birds this Valentine's Day. The movie has been written by Hussain Dalal and Sanjeev Datta and it deals with a love triangle. It revolves around the innocent teenage love story of Aakash (Pulkit Samrat) and Shruti (Yami Gautam).
Aakash leaves his town to make his career and falls in love with Akansha (Urvashi Rautela). His haunting memories make him realise that he is just infatuated by Akansha. Will Shruti accept him after his betrayal. The answer to this question will form the crux of the story of "Sanam Re."
Some audience members say "Sanam Re" is dragging in parts and it lacks an engaging screenplay. Pulkit Samrat, Yami Gautam and Urvashi Rautela have delivered brilliant performances, which are the big assets of the film. The sparkling chemistry between Pulkit and Yami is the main highlight of the movie.
"Sanam Re" has been jointly produced by Bhushan Kumar, Krishan Kumar and Ajay Kapoor under the banner T-Series Films and it has rich production elements. According to the audience, the melodious music and brilliant picturisation are among the highlights of the film.
Many film-goers shared their verdict on Twitter after watching the film. We bring you some comments. Here is the live update of "Sanam Re" review by the audience:
Rohit Jaiswal ‏@rohitjswl01
#SanamRe is a decnt film, I wnt say Huge Humangous, but acting wise @PulkitSamrat issey accha acting nhi krr skta tha.. #SanamRe is a good film, Not great or exclnt, but genuinely Good... It will score decent, @PulkitSamrat @yamigautam hv done superbly... #SanamRe biggest plus point is dat film is not boring, its Fast, and Music is Amazing, spcly title track #SanamRe... Overall #SanamRe is a decent film, maine Pulkit aur Divya ji se itna bhi expct nahi kia tha, it will do decent business...
Avinash choudhary ‏@avinashra1
#SanamRe superb movie, amazing love story, performance is too good. All r awesome @PulkitSamrat @yamigautam @TSeries
Danish Waqar ‏@dwaqar001
@yamigautam #SanamRe looks a fab movie and I also like the chemistry between you and phulkit album is also amazing.
Kiaara sandhu ‏@kiaarasandhu1
Saw #SanamRe at UAE censor. @yamigautam spoils the adorable script. screenplay is convincing. Visuals,Music r top notch. Ratings -*** While @URautelaForever & @PulkitSamrat does good job in respective roles. Rishi Kapoor is good in cameo. #SanamRe
Dorin Islam ‏@dorin_islam
#SanamRe a awesome and beautiful movie. Go and watch it and you will not regret. @PulkitSamrat and @yamigautam beautiful acting #SanamRe
RJ Stutee ‏@rjstutee
The movie starts with a no sizzle item song by madam khosla herself. And she got busy with misdirecting #SanamRe I'm guessing ! @TheQuint Takes a special kind of talent 2 have comedian #bharti in your movie&not manage to get a single laugh out of anyone ! *facepalm* #SanamRe resorting to child actors to save the day with their cuteness ?? Pathetic ! Every film can't be a bajrangi bhaijaan ! Interval!Yay!Popcorns here I come!The only thing good in #sanamre seems 2be d duration.Trying hard 2 not be tempted to leave ! Post interval #sanamre torture starts ! *cracks knuckles * never thought yami Gautam could come across this irritating. Pulkit Samrat - scowls . Yami Gautam - irritates . Urvashi rautela - shows skin ! That's #sanamre for you What a huge fall for yami Gautam.Such a badly written character in #sanamre her fairness ads now seem like Oscar winning acts!
Yami Pulkit Fc ‏@adalidjoosse
The story is beautiful and the locations are simply gorgeous! We dont need ur opinion #SanamReToday The lead pair have a sparkling chemistry that really makes the entire movie. Oh and what music! Truly beautiful! The performances and heartening story take the movie ahead of the rest. Loved it!
Rj Chirania ‏@RajatChirania
Watching #SanamRe Done with First half loved it waiting for second half..so excited, loving it
Urvashi forever ‏@amosmiletic
@bhatt_z The performances and heartening story take the movie ahead of the rest. Loved #SanamRe @URautelaForever
Casanova Aman ‏@Iam__AN
@PulkitSamrat @yamigautam..u guys killed it its jst amazing!! luv u shruti#SanamRe..pulkit bhai u killed it..full on entertaining movie!!
MEGHA ❤️ ‏@meghakhanna20
Awesome movie #SanamRe....Great movie,Great songs,Great acting @yamigautam @PulkitSamrat ....In short a entertainment package...❤️
Fan Ho Gaya ‏@khan_shahrokh
Beautiful visuals superb song stunning cinematography but one of the worst love story I have seen in my life #SanamRe
IBNLive Movies ‏@IBNLiveMovies
One hour into the film and we've already seen 4 songs. Can't really tell if it's good or bad. #SanamRe While some scenes of #BhartiSingh will make you chuckle, others will make you wonder why is she even a part of this story. #SanamRe First half of the film follows a slow build up path which fails to grip you. #SanamRe