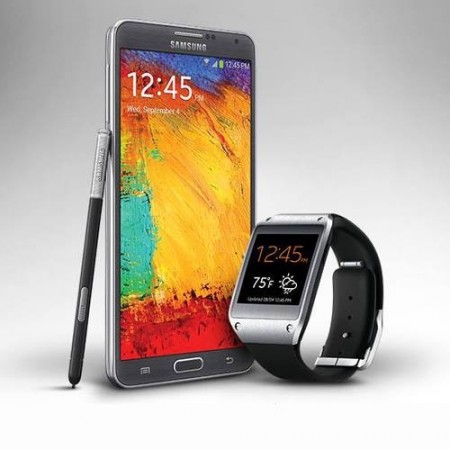 Last month Samsung announced that it will introduce the much awaited flexible screen smartphones in the month of October and it now appears that the firm is sticking to its word and is one step closer to its plan. A new mysterious smartphone from Samsung was spotted undergoing a test in GFX benchmarks, which is speculated to be the flexible screen smartphone.
The device, codemaned as SM-G910 is said to be a unique model. One of the benchmark test named "GFXBench 2.7 T-Rex HD C24Z16 - Offscreen (1080p)" has not only revealed the results but has also revealed some of the under-the-hood specifications of the device.
Some of the details revealed by the benchmarks include:
-Full HD Display (1920x1080)
-Adreno 330
-Android 4.3 Jelly Bean (out of the box)
-Qualcomm CPU 2.2GHz
The results for GFXBench 2.7 T-Rex HD C24Z16 - Offscreen (1080p) is noted as 24.6 fps, which is more than Sony Xperia Z1 (22.9 fps) and equal to Apple iPhone 5S (24.6 fps).
The GFXBench 2.7 T-Rex HD C24Z16 - Onscreen test also shows a result of 24.6 fps, which is slightly more than Sony Xperia Z1 (23.9 fps) and way below Apple iPhone 5S (36.8 fps).
Only these two tests have been performed so far, according to GFX Benchmarks. One would have to wait for the other details to emerge as the release date comes near.
It might be also possible that the proposed flexible screen smartphone spotted is the expected Samsung Galaxy Note 3 Active, which also sports a Qulacomm Snapdragon processor and Adreno 330 for handling graphics.
It has been also noted that the Samsung Galaxy Note 3 Active will sport a plastic OLED bendable screen, which is extremely light weight and durable.
The Korean tech firm will release the Galaxy Note 3 Active in limited quantities, to probably take a feedback and gauge the response of the buyers before taking a big step.
The flexible screen technology is tipped as YOUM technology by Samsung, whcih was showcased earlier this year in Consumer Electronic SHow (CES) 2013 in Las Vegas.
The YOUM technology video can be seen below:
[Video Courtesy: Samsung Tommorow/Youtube]