After launching the One UI beta programme for the Galaxy S9 and S9 Plus in multiple global markets, Samsung has expanded the service to select Galaxy Note9 users.
Some Galaxy Note9 (unlocked) model owners have already started receiving the invitation to participate in the Samsung One UI beta programme in the US, reported XDA Developer Forum.
Here's how Samsung Galaxy Note9 users can enrol for Android Pie One UI beta programme:
Step 1: The Galaxy Note9 series users will have to install either Samsung Members or Samsung+ app from the Google Play store on to the device.
Step 2: Go to the 'Notices', there you will find the 'enrol for the beta programme'. It can be noted that there are limited slots available and only lucky few will be inducted and confirmed soon via notification.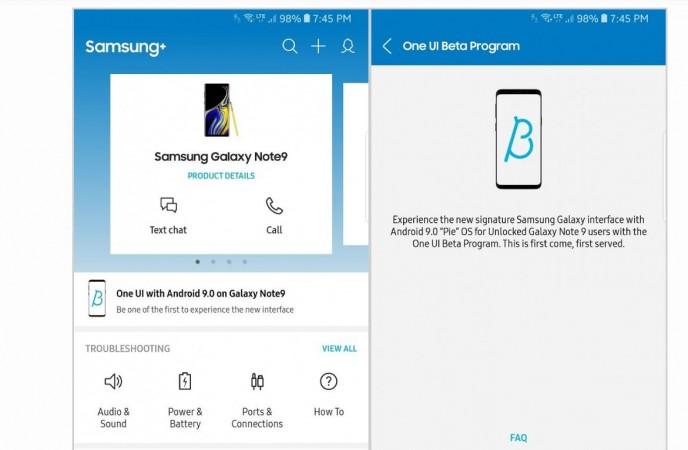 Step 3: once you get confirmation, you be notified of One UI beta software available on the phone. It weighs a little over 1GB and Samsung will release incremental or fresh beta twice a week.
Registered Galaxy Note9 owners are obliged to send feedback such as an emergence of bugs affecting performance and how the experience of using the new software. This testing programme will go on till the end of the year.
When will the public version of the Android Pie-based One UI release?
Samsung is expected to release the One UI update first to the Galaxy S9 and the S9 Plus in January 2019 and later to the Galaxy Note9, probably by the end of February.
Samsung One UI: Key features you should know
Besides Google's Android Pie features, Samsung will add its own to make One UI user-friendly. It will have a fully redesigned interface with a decluttered simple screen interface, which shows relevant information.
With each tap, the user will be able to enjoy the essential features one at a time. Also, the One UI will offer content and features at customised height on the screen for ease of accessibility, which particularly comes in handy for phones with more than 6.0-inch screen.
The new One UI also brings the much-awaited Night Mode for a comfortable viewing experience in the low-light environment. With clear and intuitive visuals, users are assured of seamless interaction with the phone in pitch darkness.
Stay tuned. Follow us @IBTimesIN_Tech on Twitter and on Google News for the latest updates on Samsung.