After months of speculations, search engine giant Google has finally revealed the name of the new Android v9.0 mobile OS, calling it the 'Pie'.
Pie comes with several new value-added features as compared to the previous Android v8.0 Oreo. Some of the key upgrades include new gesture capabilities for full-view screen phones, battery life improvements and malware security. It also comes with the pivotal wellness feature Dashboard that helps users track their screen-time activities and help them control their obsession with their phone.
Here's the brief description of all the new key features in Android Pie:
Adaptive Battery: Android engineers have collaborated with DeepMind and have created an algorithm that uses machine learning to prioritize system resources for the apps. It learns about user behaviour so the apps and services that are under-utilized will be stopped from accessing the battery that is functioning in the background. It also makes sure that the battery is used by high priority apps and lasts through the day.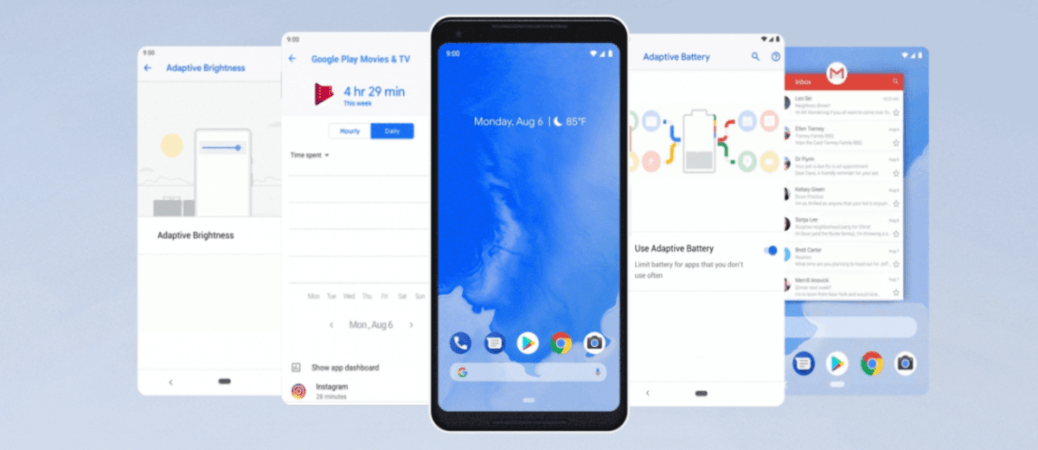 Adaptive Brightness: The phone with Android Pie studies user preference for brightness and over time it will automatically make the adjustments on the screen according to the surrounding environment and settings.
App actions: Android Pie-powered phones will learn user habits and this feature predicts what the user is about to do by suggesting routine apps. For instance, if the user connects the headphone jack to the phone, the last played music playlist will pop up on the screen in the centre.
It will also know when you start your commute for work and readily suggests Google Maps for work route while also suggesting a playlist to listen during the long commute. If the user steps into the office building, the phone automatically knows you are in office and suggests meeting notes and appointments for the day, provided he/she has enabled the location feature on the phone.
Slices: Google believes that this feature will definitely enhance the user experience for Android phone owners. If the user starts to type Uber or Ola, it will automatically trigger that particular app and give direct information on various fare tab prices and ETA (Estimated Time of Arrival) in the search results. This is said to be faster than the usual technique of opening the cab-hailing app and then booking the taxi.
Intuitive Navigation: With most of the phones coming with FullView and edge-to-edge screen, Google has added useful navigation gesture features to switch between apps or remove them. It will be way easier than using fixed buttons at the bottom. The re-design of Android's system navigation makes it simpler for users to search and move between apps.
You can swipe up from anywhere to see the full-screen previews of recently used apps, swipe left and right to easily navigate between them, and tap on one to jump in similar to the iPhone X gestures.
Digital Wellbeing: After taking note of the recent psychological studies about people's obsession with phones, especially among young adults, Google's Android team has added 'Dashboard'. This documents the user activities and tells how he or she can use their phone and make any adjustments they'd like along the way.
The Dashboard will also give you details such as how often the device owner opens his/her phone. They can see how many notifications they get, plus how much time they spend on apps and how often they check their phone.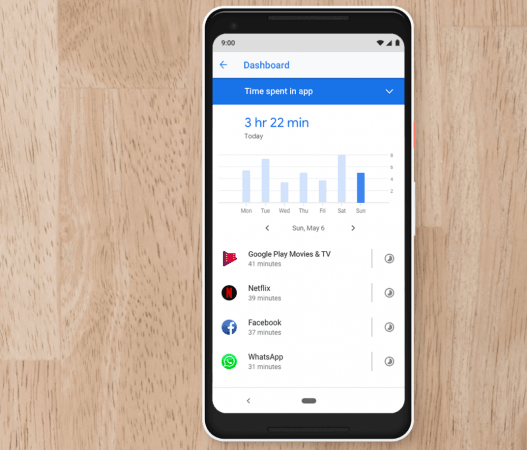 App Timers: From now onwards, consumers will be able to set timers to individual apps. If the user goes beyond the time limit, the app icons grey out to remind the user to stop the activity on the particular app for the day.
Wind down and Do Not Disturb: Android team has added a new feature Wind Down in the notification drawer, where the user can schedule the time on the phone for bedtime. When it's time, the screen fades to grayscale and if 'Do Not Disturb' is activated, it silences notifications for the set time. [Note: The user can deactivate it anytime].
Overview Selection: Users can long-press to select text or image in Overview mode and see actions based on what you've selected (for example, an option to route to an address with Google Maps or share for an image).
Notifications and smart reply: Android 9 makes notifications even more useful and more actionable. Messaging apps can take advantage of the new MessagingStyle APIs to show conversations, attach photos and stickers, and even suggest smart replies.
Any in-line reply drafts won't disappear if the user navigates away, and they will be able to see images sent from your friends in the notification. Users can now also have a quick way to turn off notifications from a range of apps, hence, they only receive those that are helpful to them. They will also get a smart prompt if they're swiping away certain notifications whether they want to keep receiving them.
Privacy enhancements: Android 9 safeguards privacy in a number of new ways. Now, Android will restrict access to your phone's microphone, camera, or other sensors when an app is idle or running in the background. (If an app does need to access a sensor, it will show a persistent notification on your phone.)
Android 9 also brings important improvements that protect all web communications and offer private web surfing. It also enables encryption of Android backups with a client-side secret (the device PIN, pattern or password) for greater security.
Furthermore, Android 9 introduces a number of new security features, including a standardized biometric authentication prompt to provide a more consistent authentication experience across Android.
Other notable features of Android 9.0 Pie include:
Redesigned Quick Settings: The Quick Settings design gets refurbished with toggles and added informational subtext.
Volume controls: Simpler and more accessible volume controls that lets the user control media volume instantly, as well as quickly toggle call and notification volume settings.
Screenshots: Users will be now able to take screenshots easily from the power menu and draw, annotate, or crop them quickly.
"Starting today (August 6), an over-the-air update to Android 9 will begin rolling out to Pixel phones. Devices that participated in the Beta program from Sony Mobile, Xiaomi, HMD Global, Oppo, Vivo, OnePlus and Essential, along with all qualifying Android One devices, will receive this update by the end of this fall. We're also working with a number of other partners to launch or upgrade devices to Android 9 this year," Sameer Samat, VP of Product Management, Android & Google Play, said in a statement.
Stay tuned. Follow us @IBTimesIN_Tech on Twitter and on Google News for the latest updates on Google's Android 9.0 Pie.