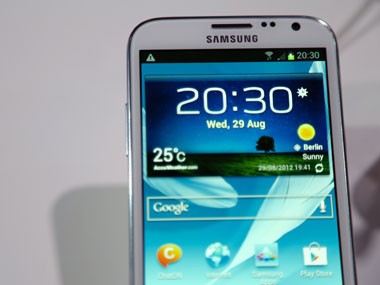 Samsung is said to be working on a 5.9-inch smartphone to tighten its grip on the burgeoning phablet market.
The Korea Times citing an anonymous source reported that the South Korean firm's next phablet, a hybrid between smartphone and tablet, is on its way with a massive 5.9-inch organic light-emitting diode (OLED) screen.
"Samsung is working on introducing a new phablet using a 5.9- inch organic light-emitting diode (OLED) screen," a source told The Korea Times. The report also mentioned that the upcoming phablet will be powered by an in-house Exynos octa-core chipset to meet the increasing demand for faster data processing.
Samsung, which has already created a benchmark in the phablet market with its Galaxy Note II, is apparently looking to strengthen its market position to take on Chinese players Huawei and ZTE, which have already unfolded a number of devices in this category.
The report has come at a time when Samsung's Galaxy S4 is expected to launch on 14 March in New York. The company is also rumoured to release its next entry-level smartphone, Galaxy Pocket Neo, before the second week of May.
According to a report published by SamMobile, Samsung's next smartphone will come in a Single SIM model as well as a Duos model. It was also said that the upcoming smartphone is likely to come in a silver shade.