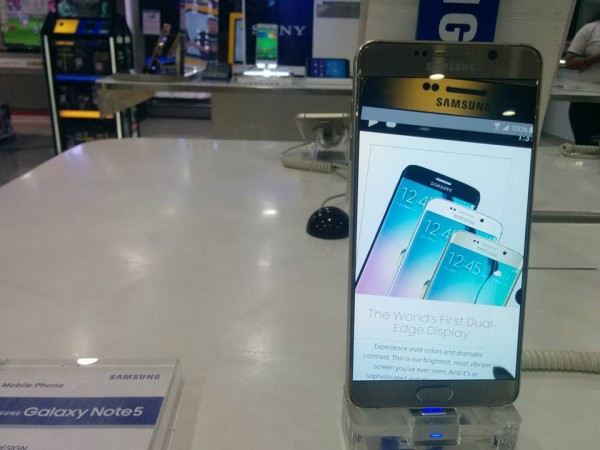 It's not that Samsung Galaxy Note 5 is a bad device. Armed with big screen, sharp display and good specifications, it is still one of the best handsets currently available in the market. But it failed to live up to the expectations after all the positive vibe around the Note series because of several reasons, and one of them was its release in selective markets.
Samsung will end up disappointing its fans rather than spreading its reach if the upcoming Galaxy Note 6 is not released in Europe.
Samsung surprised many last year by not releasing its next-generation device, the Galaxy Note 5, in Europe. The company released the Galaxy S6 edge + instead in these countries, but users of Note devices waiting for an upgrade were left disappointed. There were reports that the Note 5 would come to Europe but it never happened. The Galaxy S7 and Galaxy S7 edge have arrived but not the Note device.
The not-so-impressive sale of the Note 5 was partly because of lack of innovation and too much similarity with the Galaxy S6 edge+. The company's decision to release it only in Asia and North America too could have affected its sales.
[Read: Should you buy Samsung Galaxy Note 5 or wait for Galaxy Note 6?]
Now, one thing that Samsung Note fans in Europe will want to know is whether the upcoming Galaxy Note 6 will be released in the region or go the Galaxy Note 5 way.
The South Korean technology giant is tight-lipped on its upcoming device, but it may not repeat the mistake it made with the Note 5. Not releasing the Note 6 in Europe will not only mean a big compromise in revenue but also disappointment for its fans in the region. There are reports that Samsung may not release Galaxy S7 edge+, and if that's the case, the upcoming Note device should come to Europe. However, one has to take this assertion with a pinch of salt as we are yet to hear from Samsung about its plan.
[Read: Will you see Galaxy S7 features in Samsung Galaxy Note 6?]
The Galaxy Note 6 is expected to be released in August like its predecessor. It is reported that the device will sport a 5.7-inch display, come packed with a 64GB/128GB internal storage (with microSD card slot) and a 6GB RAM, and a 12MP main camera with improved sensor. However, Weibo user HG_VISION (via PhoneArena) has claimed in a post that it will have a 5.8-inch Slim RGB AMOLED display with 2560x1440 pixels, a 64GB/128GB internal memory, a 6GB LPDDR4 High-Speed RAM and a 12MP camera with "Super O.I.S. Plus".