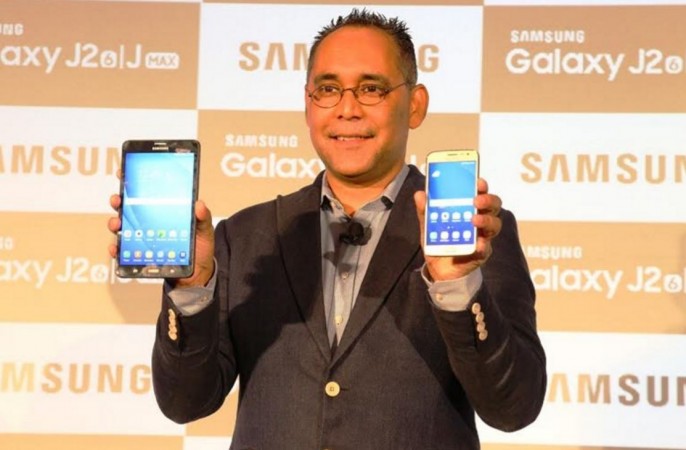 World's leading smartphone-maker Samsung pulled the wraps off the new Galaxy J2 (2016) and Galaxy J Max in Bengaluru on Friday.
"At Samsung, we are always looking for ways to enhance user experience and drive consumer delight. With the advent of 4G, exponential increase in app usage and ensuing need for multi-tasking, consumers are on the lookout for high performance device.
With Turbo Speed Technology, Samsung engineers have made a quantum leap in optimizing the operating system and hardware to provide consistent best-in-class performance out of the box and over time.
Samsung Galaxy J2 2016 also comes with an innovative 'Smart Glow' notification system which has a wide-range of utility benefits, while also adding a fresh new design element to the device," Manu Sharma, Vice President, Mobile Business, Samsung India, said in statement.
"The Samsung Galaxy J Max with 7'' screen is designed to offer consumers the best entertainment consumption experience on a smart device," Sharma added.
The new Galaxy J2 boasts of "Smart Glow" LED technology. It is a customizable colour LED notification system, where in users can set colour-coded notification for each contact. If anybody calls the Galaxy J2 (2016) owners, the LED ring placed around the primary camera on the back will glow. Based on the colour, the user can know who the person (or group -family/office) calling is.
Another notable feature is the Turbo Speed Technology (TST). This feature proactively shuts down idle processes running in the background. It de-clutters RAM using its intelligent memory system to ensure resources like RAM and processor are free and ready to take on new tasks, the company said.
Also read: Sony Xperia X Review [Hands on]: It's got equal share of hits and misses
Other stipulated features include 5.0-inch super AMOLED HD screen, Android Marshmallow OS, 1.5GHz Spreadtrum quad-core processor, 1.5GB RAM, Ultra Data Saving mode, S Bike mode, 8MP primary camera and a 5MP snapper on the front.
On the other hand, Samsung Galaxy J Max is a massive phablet. It boasts a 7.0-inch screen and comes with Android Lollipop, 1.5GHz Spreadtrum quad-core CPU, 1.5GB RAM, 8GB inbuilt memory, 8MP primary camera, 2MP snapper on the front and a 4,000mAh battery.
Also read: Xiaomi Mi Max first impression: It's the Wun Wun of smartphones
Samsung Galaxy J2 (2016) and J Max price and availability details:
The new Galaxy J2 (2016) and J Max costs Rs.9,720 and Rs.13,400, respectively. Both the devices will be made available both online and at brick-and-mortar stores. The latter will be released at the end of July, while the former will be up for grabs from July 10 onwards.
Prospective buyers of the Galaxy J2 2016 and Galaxy J Max will get a six month data offer from Airtel where-in, prepaid users can benefit from a double data offer worth up to Rs. 4,500.
Key specifications of Samsung Galaxy J2 (2016) and Galaxy J Max:
Models
Samsung Galaxy J2 (2016)
Samsung Galaxy J Max
Display
5.0-inch super AMOLED HD (1280x720p) screen

Pixel density: 293 ppi (pixels per inch)

7.0-inch HD WXGA TFT LCD screen with 1280 x 800p resolution
OS
Android 6.0 Marshmallow
Android 5.0 Lollipop
Processor
1.5GHz Spreadtrum quad-core CPU
1.5GHz quad-core CPU
RAM
1.5GB
1.5GB
Storage
8GB, expandable up to 128GB
8GB, expandable to 200GB
Camera

Main: 8MP camera LED flash, autofocus, f/2.2 aperture
Front: 5MP camera with f/2.2 aperture

Main: 8MP camera LED flash, autofocus, f/1.9 aperture
Front: 2MP camera with f/2.2 aperture

Battery
2600mAh
4,000mAh
Add-ons
Smart Glow, Turbo Speed Technology (TST), dual-SIM slots, Bluetooth v4.0, Wi-Fi (802.11 b/g/n), A-GPS, GLONASS, micro USB 2.0, FM Radio
Turbo Speed Technology (TST), Dual-SIM slots, Bluetooth v4.0, Wi-Fi (802.11 b/g/n), A-GPS, GLONASS, micro USB 2.0, FM Radio
Dimensions
142.4 X 71.1 X 8.0 mm
186.9 X108.8X 8.7 mm
Colour
Black, white and gold
Black and gold
Price
Rs. 9,750
Rs. 13,400