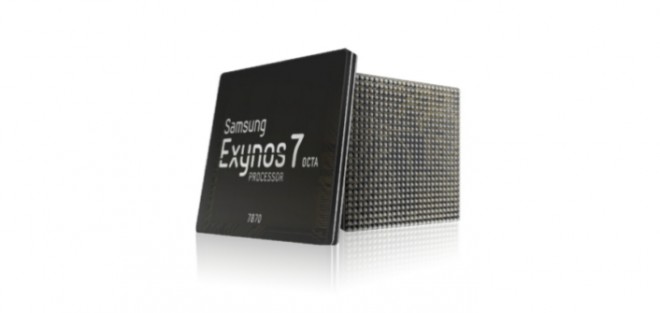 #mce_temp_url#Samsung Electronics on Wednesday launched a new Exynos mobile processor â€" the Exynos 7 Octa 7870 â€" based on its advanced 14-nanometer (nm) FinFET technology. The new processor is aimed at mid-range smartphones, and the company said it will begin production in the first quarter of 2016.
The announcement comes shortly after Qualcomm introduced three new Snapdragon mobile processors last week that support advanced features on affordable smartphones. Samsung's move not only challenges Qualcomm, but also strengthens its position in the SoC segment. According to the company, the Exynos 7870 consumes less power without compromising on the performance.
"With increased performance and power efficiency, we anticipate widespread adoption of our new Exynos 7 Octa 7870 into mid-tier mobile devices," Ben K. Hur, vice president of system LSI marketing at Samsung, said in a statement. "Consumers will experience enhanced performance as this is the first time a mobile application processor built on advanced 14nm process is available for these types of smart mobile devices."
Samsung 14nm-based chipsets have only been reserved to high-end flagship smartphones, but the introduction of Exynos 7870 changes that. The new processor incorporates octa-core ARM Cortex-A53 cores clocked at 1.6GHz, LTE Cat.6 2CA Modem that supports up to 300Mbps downlink speeds and consumes over 30 percent less power than 28nm-based High-k Metal Gate tech chips.
Exynos 7870 chip's Image Signal Processor (ISP) can handle up to 16-megapixel resolution images on both front and rear cameras, or 8MP each in dual camera setup. The processor supports Full HD (1080p) video playback at 60fps and a display resolution of 1920 x 1200 pixels.
It will be challenging for Samsung to overtake Qualcomm's Snapdragon 625, which is also based on 14nm FinFET technology. The Snapdragon 625 supports up to 24MP photos and up to 13MP selfies, 4K video playback and supports 4G+ speeds up to 150Mbps on uploads. Qualcomm's Snapdragon 435 is also a close match to Exynos 7870 as it supports 300Mbps downlink speeds with 4G+ support and incorporates eight ARM Cortex-A53 processors.
It remains to be seen which SoC manufacturer will take the lead in the mid-range smartphone segment. Samsung's Exynos 7870 is expected to power phones sometime in the second half of 2016, which is around the same time Qualcomm will introduce its new chipsets in commercial devices.