There's just too much chatter about Samsung's next flagships – Galaxy S9 and Galaxy S9+ - and as the official announcement date inches closer, more details are served. While the bigger picture is easily guessed by avid fans and industry watchers, it is those little details that matter the most.
A new leak straight out of China is doing just that without shying away from hiding the essentials. TechDroider has some insightful information on everything we have been guessing about the new Galaxies. But in a shocking revelation about the new flagships, the tech blog suggests that Samsung is following the herd.
After we've seen the iPhone X, iPhone 8 and iPhone 8 Plus, Google Pixel 2 and Pixel 2 XL, Xiaomi Mi MIX 2 and few others ditch the useful 3.5mm audio jack, it appears Samsung will do the same for its Galaxy S9 and Galaxy S9+. Listed as one of the bullet points about the features of the new smartphones, a note says that both Galaxy S9 phones will have "no headphone jack."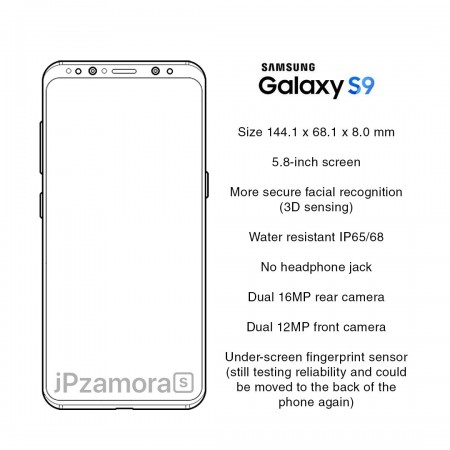 With this news, other information about the two new Galaxies follow. They suggest a more secure facial recognition 3D sensing technology, akin to the iPhone X, dual 12MP front and 16MP rear cameras, under-screen fingerprint scanner, and IP65/68 water resistance for Galaxy S9 and Galaxy S9+.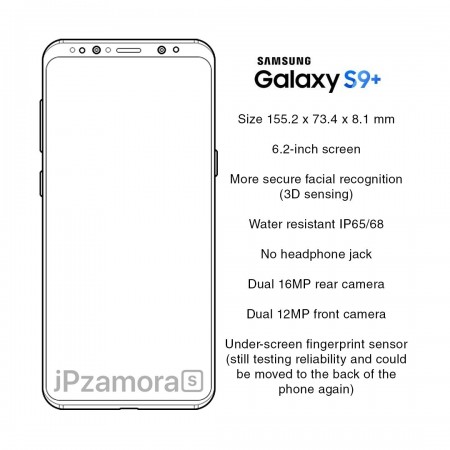 The display, however, will have different sizes, which is quite natural. The report says that the Galaxy S9 will have a 5.8-inch display and the S9 Plus will boast a 6.2-inch screen. And let us help you fill in the missing pieces of the puzzle based on what we've heard so far.
There's an ongoing debate on whether or not Samsung will have the fingerprint sensor under the display, on the front with a special notch or take the current position at the back. At least Samsung is not doing away with the fingerprint scanner like the 3.5mm headphone jack.
It is also being reported that Samsung Galaxy S9 and Galaxy S9+ will have exclusive right to first batch of Snapdragon 845 chipset, which will have 10nm LPE FinFET architecture, Cortex A75 cores, Adreno 630 GPU and X20 LTE modem. The chipset is said to be paired with 6GB RAM and 64GB/128GB storage variants.
The displays will have a vibrant QHD+ resolution on an OLED display in an Infinity style. The biggest question is when the new phones will officially launch to finally put the ongoing speculations to rest. If the rumours are to be believed (even if it is with a pinch of salt), we will be lucky to see it in the first quarter of next year or certainly in the early Q2 2018.