The long rumoured Samsung Galaxy S8 Active, a rugged version of the company's flagship Galaxy S8 (& S8+) series, is expected to break cover in the coming days.
Samsung phone bearing model number: SM-G892A, understood to be the Galaxy S8 Active, has passed regulatory FCC (Federal Communications Commission) certifications, clearing a very important hurdle before its launch.
The upcoming Galaxy S8 Active, internally known as 'Cruiser', shares most of the internal hardware of the original Galaxy S8 series such as physical memory, processor and camera specifications, but sadly, it's design language will be completely different from the original.
The company, in a bid to make the Galaxy S8 Active more rugged, has ditched the hallmark Infinity display feature of the Galaxy S8 series.
Though the design language of the current Galaxy S8 series is a visual delight, it makes the device vulnerable to breakage when dropped from a low height.
(Note: All Galaxy S8 series owners are advised to buy protective guards to cover the front and back of their devices to prevent them from getting cracked or dented).
On the bright side, Galaxy S8 Active is said to come with IP68 dust-and-water resistance certification and also boast of US military-grade rugged MIL-STD-810G standards (includes humidity, fungus, salt fog for rust testing; sand and dust exposure; explosive atmosphere; leakage; acceleration; shock and transport shock and more).
Under-the-hood, it is said to come packed with Qualcomm Snapdragon 835 octa-core processor, Adreno 540 graphics engine, 4 GB RAM, 64 GB storage (53 GB user-available), Android 7.0 Nougat, 12 MP primary shooter with HDR, autofocus and a 7 MP front snapper.
Interestingly, the Galaxy A8 Active is said to sport a 5.4-inch screen (2008x1080p), 0.3-inch smaller than the original Galaxy S8 series.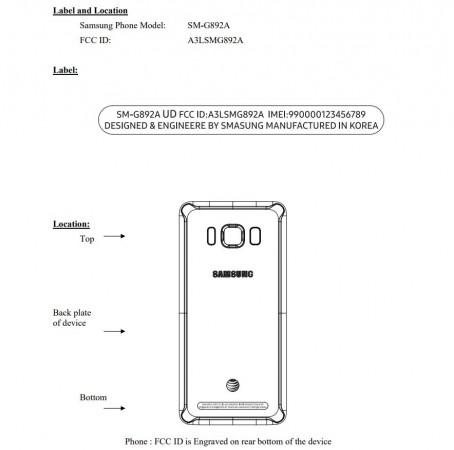 There is no word on battery capacity, but if previous Galaxy S Active editions are taken as any indication, the 2017-series will have bigger battery compared to the original model.
Like all previous years, the upcoming Galaxy S8 Active is unlikely to be sold anywhere else than the US market and is expected to be exclusive to AT&T. Even the device showed on the FCC document shows the AT&T logo engraved on the device's back side.
Watch this space for latest updates on Samsung Galaxy S8 Active series.