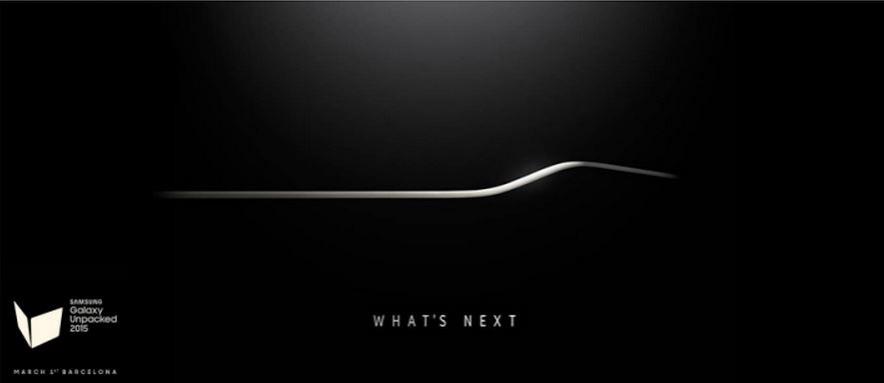 Early this week, Samsung officially began sending out invites for the company's event "Galaxy UNPACKED 2015" to be held on on 1 March, Barcelona, a day ahead of the MWC (Mobile World Congress) 2015.
It doesn't take a genius to figure out that the upcoming event is a launch pad for Galaxy S6 because Samsung has been using this "Galaxy UNPACKED" event series for the last two years as a platform to announce new marquee devices to the world.
So, in all probability, we will finally witness the launch of the much-improved and more innovative successor to Galaxy S5, which failed to live up to the expectations of critics and buyers.
Since the announcement of Galaxy UNPACKED 2015 event, the Internet is being flooded with rumours detailing features of the Galaxy S6.
Everything rumour circulating on the Internet doesn't necessarily end up being true. So, to provide a clear perspective on the Galaxy S6, we have sifted through numerous reports and have pieced together list of probable specifications, release date and price details of the upcoming Samsung 2015 marquee phone.
Samsung Galaxy S6 and Edge-Display:
Samsung Galaxy S6 is said to sport a 5.0-inch QHD (aka 2K: 2560x1440p) display having resolution of more than 550 pixels per inch of the screen.
Besides the normal model, Samsung is also working on limited edition Edge model with curved display, similar to Galaxy Note Edge. Even the Samsung's Galaxy UNPACKED 2015 event invite poster gives us a glimpse of the curved body design.
It is learnt that the Galaxy S6 Edge will have dual-edge display; in which the phone's screen will be curved on both right and left side.
Extra space on both the edges are said to be utilized to house illuminated icons (shortcuts) for easy access to user's favourite apps.
[Note: Galaxy Note Edge has curved screen only on one side]
Samsung Galaxy S6 and Edge-Processor, RAM and storage:
The 2014 flagship phone Galaxy S5 was released with two chipset variants based on network availability in select regions.So, many believed that Galaxy S6 and the Edge edition would get launched with models each having different procesors.
Now, it has come to light that Samsung has dropped the plan to incorporate the new Snapdragon 810 CPU in its smartphones.
Bloomberg citing Samsung sources reported that the company faced over-heating of the Snapdragon 810 chipset during the test run of Galaxy S6.
This issue has reportedly forced Samsung to shelve the Snapdragon CPU model and go solo with Galaxy S6 (and S6 Edge) variants featuring company's in-house built Exynos 7 Octa-core SoC (System on Chip).
Qualcomm in its bid to appease Samsung reportedly came forward to provide new upgraded 810 chipset. But the South Korean company has apparently made up its mind to launch Galaxy S6 models with Exynos 7 Octa-core processor only.
Exynos 7 is said to be more superior to Snapdragon 810 as the former is an advanced 14nm (nanometer) class chipset which comes paired with Cat 10 LTE connectivity support, whereas the latter is 20nm class chipset with Cat 9 LTE support, reported Tom's Hadrware.
If this is true, then its a good move, because if Samsung goes ahead incorporating faulty chipset in Galaxy S6, it runs the risk of negative publicity.
[Read more- Strong iPhone 6 Sales in Q4, 2014 Helps Apple Close Gap With Samsung: IDC]
What if the over-heating issue crops again when they reach consumers? This will certainly dent company's image and will hurt the prospects of arresting declining profit of Samsung since early 2014.
So it will be good for Samsung to go ahead with Galaxy S6 launch with the right components in place and launch the Snapdragon variant little later in the year after thorough testing.
In terms of storage, we expect the new Samsung smartphones to ship with 3GB (or 4GB) RAM and 32GB/64/128GB inbuilt memory having expandable options via microSD card.
Samsung Galaxy S6- Value-added Features
Much Improved Fingerprint Sensor:
In 2014, Samsung for the first time introduced the finger-print sensor in Galaxy S5. However, critics and buyers were disappointed with the design of home button. It had very little space to house the sensor and this faulty swipe-based finger print resulted in frustration for users who were forced to repeatedly swipe their fingers on the home button to get access to the phone.
Now, reports from South Korea indicate Samsung has dumped the swipe-based system to touch-based sensor which can enroll whole finger-pattern on the Galaxy S6.
"The sensor will work in the same manner as on the Huawei Ascend Mate 7 and the iPhone 5S / 6 / 6 Plus," reported SamMobile, citing company sources.
Samsung Galaxy S6-Water-proof certifications:
2014 flagship model Galaxy S5 boasted IP67 water-and-dust repellant certifications, so its successor is also expected to have same or advanced certifications.
However, we can't expect the same for Galaxy S6 Edge since it is said to have a different body design.
Heart-rate sensor and UV (Ultra-Violet) sensor:
Samsung has already incorporated heart-rate and UV sensors in the Galaxy Note 4 series, so we expect these value-added features in the upcoming Galaxy S6 as well.
Samsung Galaxy S6 and Edge-Mobile Operating Systems:
Samsung has already began rolling out Android 5.0 Lollipop update to the Galaxy S5 , Galaxy S4, Note 3, so one can expect Galaxy S6 to run on the new sweet candy flavoured Google mobile OS.
Samsung Galaxy S6 and Edge -Camera details:
Samsung Galaxy S6 is expected to come packed with the 20.0-megpaixel camera on the rear-side and a 5.0-megapixel snapper on the front.
Samsung Galaxy S6 and Edge Price details:
If sources at Android Pit are to be believed, Samsung Galaxy S6 models – 32GB, 64GB and 128 –would cost €749 (around $ 848/₹ 52,600), €849 (around $961/₹59,600) and €949 (around $1074/₹66,630) respectively.
Whereas the Galaxy S6 Edge models – 32GB, 64GB and 128GB – will come with price tag of €849 (around $961/₹59,600), €949 (around $1074/₹66,630) and €1049 (around $1187/₹73,650)
Samsung Galaxy S6 and Edge Release details:
In all probability, Galaxy S6 will be launched on 1 March at Galaxy UNPACKED 2015, Barcelona.
[Read more: Samsung Officially Sends out Invites for Galaxy UNPACKED 2015; Flagship S6 with Curved Display Pegged for Launch Next Month]
Soon after the launch, Galaxy S6 is expected to hit stores in select global markets by March end, reported Times of India, citing industry insiders.
It is believed that Samsung wants to have a headstart over rivals HTC and Sony who are also slated to announce their flagship handsets One (M9) aka HIMA and Xperia Z4 respectively at MWC 2015.
Expected specifications of Samsung Galaxy S6 and Galaxy S6 Edge:
Model
Samsung Galaxy S6 and Galaxy Edge S6
Display

5.0-inch super AMOLED QHD (aka 2K: 2560x1440p) screen. It will be protected by Corning Gorilla Glass 4 shield
Edge model will curved-screen on both right and left side of the phone
Pixel density: more than 557 ppi (pixels per inch)

OS
Most likely to come with Android 5.0 Lollipop OS
Processor

Model 1: 14nm based 64-bit class Exynos 7420 Octa-core (four Cortex-A53 + four Cortex-A57 cores)
Model 2: Qualcomm Snapdragon 810 series Octa-core CPU (Quad-core ARM® Cortex™ A57 and quad-core A53 with 64-bit support)

GPU
Mali T-760/Adreno 430
RAM
4GB
Storage capacity
32GB, 64GB and128GB
Camera

Main: 20.0-megapixel with 4K video recording option, OIS (Optimal Image Stabilization)
Front: 5.0-megapixel camera

Battery
2550 mAh
Network
4G-LTE (CAT10 speeds of up to 450 Mbps download speed)
Colours
Dark-blue, Blue-green, Gold and White
Price

Samsung Galaxy S6 32 GB: €749 Euros (around $ 848/₹ 52,600)
Samsung Galaxy S6 64 GB: €849 Euros (around $961/₹59,600)
Samsung Galaxy S6 128 GB: €949 Euros (around $1074/₹66,630)
Samsung Galaxy S Edge 32 GB: €849 Euros (around $961/₹59,600)
Samsung Galaxy S Edge 64 GB: €949 Euros (around $1074/₹66,630)
Samsung Galaxy S Edge 128 GB: €1049 Euros (around $1187/₹73,650)