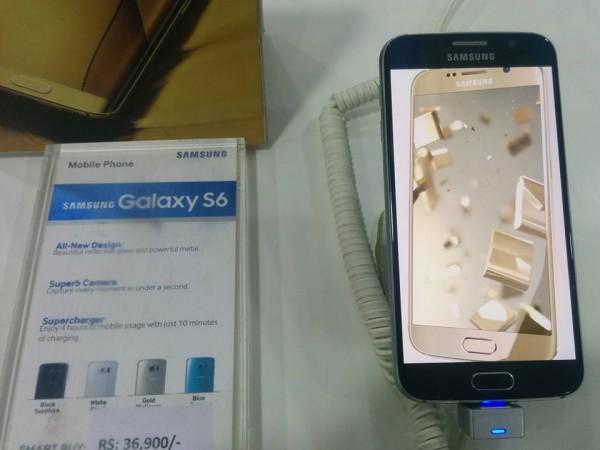 Even as Samsung is trying to bounce back after the shock it received from the debacle of its Galaxy Note 7, an incident that has the potential to cause more trouble has taken place. Its 2015 flagship, the Galaxy S6 reportedly exploded mid-flight on China Airlines flight CI027 on Wednesday evening, causing panic among the passengers.
The incident came just a couple of months after Samsung recalled the Galaxy Note 7 and eventually discontinued its sale and production once and for all following reports of blasts caused by its faulty battery.
[READ: Samsung Galaxy S7 explodes after Galaxy Note 7; victim says it's like carrying a bomb]
The Samsung Galaxy S6 exploded onboard a China Airlines (CAL) flight CI027 that was on its way from Palau to Taoyuan, according to Taiwan News. The accident that took place while flying over Manila, Philippines caused burns to the owner's hand and filled the cabin with smoke. The crew of the flight had to seal the handset in an ice bucket and put it to the notice of the Civil Aeronautics Administration and Aviation Safety Council.
No injuries have been reported from the blast.
The China Airlines has confirmed the incident in a statement and said that it would work with the authorities to probe into the incident.
It may be mentioned that the South Korean technology company recalled the Galaxy Note 7 worldwide in October after the continued reports of the device catching fire. It gave the owners the option to either exchange with the Galaxy S7 and Galaxy S7 edge or a full refund but the damage was already done to its brand.
Several airlines prohibited passengers from taking the device inside the plane, citing that it would cause inconvenience to the travellers. The Federal Aviation Administration, a national organization that sets regulations for airports and airlines in the US, went to the extent of announcing that carrying the device on board a plane would be regarded as a criminal act. Offenders are liable to pay a fine of up to $179,933, and those trying to bring the device inside the plane could be sentenced up to 10 years imprisonment.
[Source: Taiwan News]