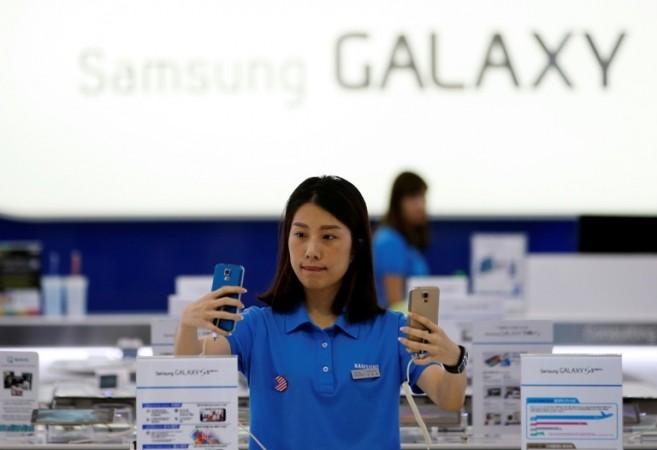 Key specifications of the Samsung's forthcoming 2015 flagship smartphone Galaxy S6 have surfaced online ahead of rumoured launch in March.
Technology blog Korea Bench citing market analysts has revealed that the soon to be unveiled Samsung Galaxy S6 will ship with 4GB RAM and not 3GB as previously reported.
Though there is no tangible evidence to substantiate his predictions, we believe that Samsung might incorporate 4GB physical memory as an upgrade over its predecessor and also be on par with rivals.
More the RAM capacity, more efficient the phone works. There will be less lag when user plays power-intensive games or perform multiple tasks on the device.
[Read more: Asus Launches ZenFone 2, Zoom Camera-Centric Smartphone]
Early this month, Asus and Xiaomi launched flagship phablets Zenfone 2 and Mi Note Pro respectively with same RAM specifications.
[Read more: Xiaomi Mi Note vs. Mi Note Pro vs. Apple iPhone 6 Plus: Price, Specifications and Everything You Need to Know]
If we dial back the clock, in December 2013 Samsung Electronics had announced 20nm (nanometre) class based 8GB LPDDR4 (Low Power Double Data Rate series 4) RAM for mobile devices.
The company had planned to integrate four of the new 8GB chips into a single 4GB LPDDR4 package that can provide the highest level of performance (50% more), density, efficiency, and still be able to consume 40% less compared to the current crop of physical memory chips found in the high-end smartphones.
The new memory chip will enable smartphones to support high resolutions display, resource hungry 3D games and maximum data transfer rate per pin of 3,200 megabits per second (Mbps).
It was first rumored to feature in both Galaxy S5 and Note 4, but never materialized, now many are expecting Samsung to incorporate 4GB RAM to efficiently manage the big-screen based Galaxy S6.
In a related development, another Korean media house, DDaily citing reliable sources inside Samsung has claimed Galaxy S6 will boast glass cover on both front and rear-side with metal-frame around the edges and new phone will have non-removable battery.
With this Samsung has finally bid adieu to plastic body, which the fans have long been praying for. Samsung despite producing feature-rich smartphones was panned for inferior build quality.
Now, Samsung seems to have finally learned lessons from the Galaxy S5, which failed to entice consumers.
We saw transition in Samsung during the second half of 2014 when the company launched the metal-frame based Galaxy Alpha, Galaxy Note 4 and Galaxy A3, A5, A7 and now Galaxy S6 will follow in 2015.
Past Galaxy S series devices (S3, S4 and S5) have been only incremental in upgrade with no innovative features, which eventually dented Samsung's revenue in 2014.
It is learnt that the company's tentatively titled S6 development program - 'Project Zero' will try to invigorate the fading the popularity of the Galaxy S series.
In this initiation, Samsung has vowed to make radical change in design, hardware specifications to make Galaxy S6 a true marquee device and is also slated to launch a limited edition Galaxy S6 Edge with dual-Edge display. It is an advanced version of Galaxy Note Edge, which had curved display on the right side. Galaxy S6 Edge screen will be curved on both right and left side.
If sources of SamMobile are to be believed, the South Korean company is said incorporate an innovative 'Glance Lighting' feature.
This app when activated will light up the Edge area when you receive a call or notification, when the user turns his/her device over.
And the user will also have an option to select colour codes to favourite contacts.
So, when the user receive calls or notifications, the 'Edge' screen will light up with specific colours to show whether the call is important or not.
Rumour has it that Samsung is expected to unveil both Galaxy S6 and Edge variants at MWC (Mobile World Congress) 2015, Barcelona in March first week.
Speculated Specifications of Samsung Galaxy S6:
| | |
| --- | --- |
| Model | Samsung Galaxy S6 |
| Display | 5.5-inch super AMOLED QHD (aka 2K: 2560x1440p) screenPixel density: more than 540 ppi (pixels per inch) |
| OS | Most likely to come with Android 5.0 Lollipop OS |
| Processor | Model 1: Exynos 7420 Octa-core (four Cortex-A53 + four Cortex-A57 cores)Model 2: Qualcomm Snapdragon 810 series Octa-core CPU (Quad-core ARM® Cortex™ A57 and quad-core A53 with 64-bit support) |
| GPU | Mali T-760/Adreno 430 |
| RAM | 3GB/4GB |
| Storage capacity | 32GB, 64GB and128GB |
| Camera | Main: 20.0-megapixel with 4K video recording option, OIS (Optimal Image Stabilization)Front: 5.0-megapixel camera |
| Network | 4G-LTE (CAT6 speeds of up to 300 Mbps with support for up to 3x20 MHz carrier aggregation on LTE FDD and LTE TDD) |
| Add-ons | Touch based finger-print sensor, Supports Bluetooth 4.1, VIVE™ 2-stream 802.11n/ac with MU-MIMO, USB 3.0/2.0 port, Snapdragon 810 CPU comes with Integrated 4G LTE Advanced CAT6 World Mode modem, supporting LTE FDD, LTE TDD, WCDMA (DC-HSPA+, DC-HSUPA), CDMA1x, EV-DO Rev. B, TD-SCDMA and GSM/EDGE |
| Other mentionable features | Broadcom's new BCM4773 chip with navigation (GPS) and other sensors put together on a single chip, an industry first. |