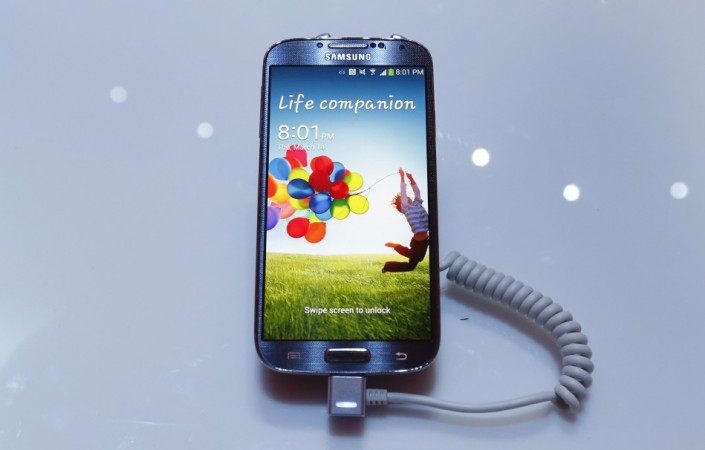 Samsung's hot selling device Galaxy S4 is expected to cross 80 million in sales this year, according to RBC Capital Markets analyst Mark Sue.
The smartphone which has already crossed the magic figure of 10 million since its launch in April is expected to hit 20 million in the second quarter of its sales, and keeping to the current sales record is expected to reach 80 million. The prediction is based on the current selling pace of Galaxy S4. Sue compared the shipments of Galaxy S4 with Galaxy S3.
"Galaxy S-4 demand in the first month of availability has been incrementally better than our estimate of 10M units," BGR reported Sue as saying.
"In comparison, the S-III took nearly 2 months (50 days) to achieve the 10M units mark. Our broad-based channel checks at U.S. stores indicate that demand for the 16G S-4 devices remains strong with 32G Black devices mostly sold-out and 32G White devices yet to make it to the stores."
The Galaxy S4 smartphone which was unveiled at Radio City Music Hall, New York City, on 14 March had a worldwide release on 26 April. Among its specifications are a 4.99-inch 1920x1080 pixel Super AMOLED display with 441 ppi, Android v4.2.2 OS Jelly Bean, 13.0-megapixel primary camera, 2.0-megapixel pixel front-facing camera and 1.6GHz octa-core processor or 1.9GHz quad-core processor. It also comes with new features such as Smart Scroll, Smart Pause, Samsung WatchON and S Voice Drive.
Samsung recently announced that it has sold 10 million units of the smartphone in less than a month.
During the announcement of Samsung's new milestone, JK Shin, CEO and President of the IT & Mobile Communications Division at Samsung Electronics had said, "On behalf of Samsung, I would like to thank the millions of customers around the world who have chosen the Samsung GALAXY S4. At Samsung we'll continue to pursue innovation inspired by and for people."