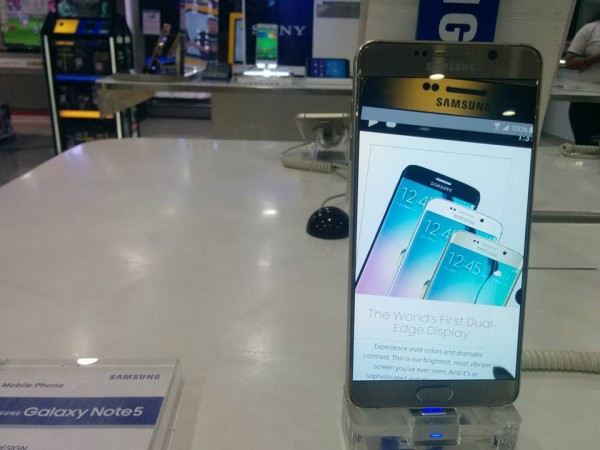 The Galaxy Note 5 will complete a year cycle in the market in August. So, most people will expect its successor, the Galaxy Note 6, by this time or even later, but Samsung is reportedly eyeing an early launch of the much-anticipated device.
The South Korean technology giant is planning to release the Galaxy Note 6, codenamed Grace, in mid-July, before the Galaxy Note 5 completes a year in the market, reported Korean website The Bell (via PhoneArena), citing sources familiar to the matter. It went on to say that the device will come with Google's upcoming operating system, Android N out of the box.
[Read: Should you buy Galaxy Note 5 or wait for Galaxy Note 6?]
Now that the Galaxy S7 and Galaxy S7 edge have been released, focus will be on the upcoming Galaxy Note 6. Samsung hasn't revealed anything about it but leaks have exposed several details, including specifications.
There are conflicting reports on the features of the next-generation device. A Weibo user by the name HG_VISION (via PhoneArena) has claimed in a post that the device will sport a 5.8-inch Slim RGB AMOLED display with 2,560x1,440 pixels, come packed with a 64GB/128GB internal memory and a 6GB LPDDR4 High-Speed RAM, and mount a 12MP camera with "Super O.I.S. Plus."
[Read: Samsung Galaxy Note 6 -- 5 things you may see in Note 5 successor]
On the other hand, few reports earlier claimed that the device will sport a 5.7-inch display like its predecessor, the Galaxy Note 5. It was also reported that the upcoming device will be powered by a Qualcomm Snapdragon 820, run Android Marshmallow, come packed with a 64GB/128GB internal storage (with microSD card slot) and a 6GB RAM, and house a 12MP main camera with improved sensor.