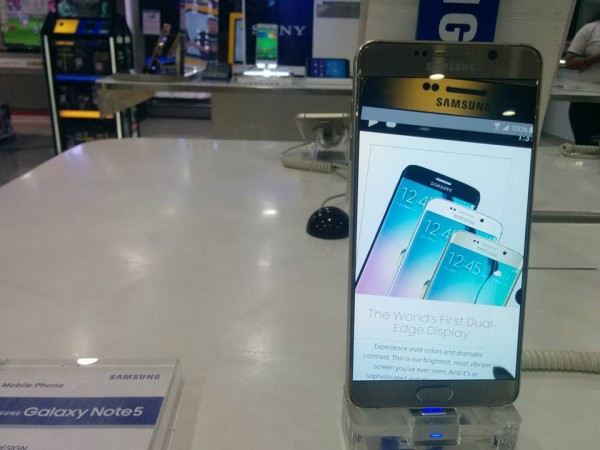 It's been barely a month since Samsung's flagship Galaxy S7 series hit the stores, and the focus has already shifted to the company's marquee phablet Note series, which is due for launch in the third quarter of the year.
Technology blog SamMobile, citing popular Chinese tipster HQ Vision, has claimed Samsung will use a 2.6GHz Qualcomm Snapdragon 823 SoC (System-on-Chip), an advanced version of 820 series, in the Galaxy Note 6.
The Snapdragon 823 chipset is said to come packed with 64-bit class Kryo quad-cores, a 720MHz Adreno 530 graphics engine and a Hexagon Digital Signal Processor (DSP).
The Snapdragon CPU seems to boast quite a lot of horse power, and if used in the Galaxy Note 6, it will definitely make the Samsung device a formidable rival of the iPhone 7, which is slated to be unveiled in September 2016.
That being said, we cannot vouch for this report because Snapdragon 823 is yet to be officially unveiled by Qualcomm, and the Galaxy Note 6 is still in the initial stage of development and at least four months away from being unveiled.
In a related development, 200 units of "Iris Cam" sensor modules were reportedly imported from South Korea to New Delhi for testing purposes by Samsung Mobile, Galaxy Club reported citing Zauba, an India-based export-import logistic company website.
Many believe Samsung will incorporate an Iris scanner in the Galaxy Note 6 if the test results are positive. Iris-based biometric technology was rumoured to come in previous-generation Galaxy S and Note series devices, but was abandoned due to design limitation.
Also read: Samsung Exynos Hints Unique Smartphone Security System; Will Galaxy Note 4 Feature Retina Scanner?
Recent reports suggest Samsung will once again try to incorporate Iris scanner by making some changes in the Galaxy Note 6's design.
Iris-based biometric technology is said to be more secure than the conventional fingerprint security feature as the latter can be tricked by using a semi-transparent latex mould embellished with a fake finger impression.
Read more: Apple iPhone 5S Fingerprint 'Touch ID' Security Feature Breached, Says German Hackers
If Samsung does succeed in incorporating an Iris scanner in the Galaxy Note 6, it will raise the bar for Android smartphones in the mobile industry.
Samsung Note 6 is also rumoured come with a 5.7-inch QHD screen, a foldable S-Pen stylus, IP68 water-proof certification, 6GB RAM, 256GB inbuilt storage, and a 12MP dual-lens camera with Optical Image Stabiliser (OIS).
Watch this space for more updates.