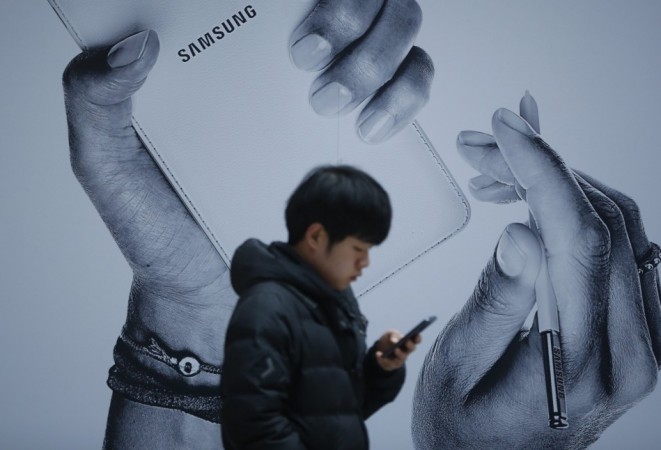 Samsung Exynos tweet has reportedly hinted that its future smartphones may feature retina scanner, inciting speculations of the possibility of incorporation of the advanced biometric technology in the upcoming Galaxy Note 4.
Samsung Exynos tweeted a poster of a smartphone with a graphical image of an eye with tag – "Unlock the future," giving away the hidden message that the future smartphones and possibly the phablet, Galaxy Note 4, slated to get launched in September, may debut with the retina scanner.
Security can be improved using features unique to us. That's what we envision. What would you use? #ExynosTomorrow pic.twitter.com/KLgQ1q9GkP

— SamsungExynos (@SamsungExynos) July 12, 2014
Though it is yet to be officially confirmed, Samsung's current predicament of tapering profit margins in smartphone business suggests that it has to incorporate new technologies to differentiate with rivals.
Otherwise, the South Korean firm's arch-rival Apple's forthcoming iPhone 6 series (4.7-inch & 5.5-inch) smartphones and the emergence of low-cost Chinese handset makers Xiaomi, Lenovo and Huawei may inflict more stress to the company in the near future.
Now, the company's chipset arm tweet implies that it is very serious to address the issue; if iris/retina scanner is incorporated in the Galaxy Note 4, then it can call itself a pioneer in smartphone industry, unlike Galaxy S5, which got panned by certain section of media for using finger-print sensor, which was already seen in Apple's 2013 model iPhone 5S.
Few months prior to the Samsung Galaxy S5 in February, rumours were rife that phone might boast of iris scanner, but the speculations died soon after a report surfaced online, suggesting Samsung dumped this feature for its technological limitations.
The iris scanner required Samsung technicians to plant a second dedicated camera on the front, leading to changes in the Galaxy S5's structural design. This shortcoming forced the company to adopt the finger print scanner.
Now, if the company successfully incorporates the retina scanner in Galaxy Note 4, Samsung can gain an upper hand over the rivals, as this biometric eyeball scanning technology will be a giant leap in the handset business as it is more evolved and secured than the finger-print sensor, which can be forged using fake thumb prints.
Soon after the Apple iPhone 5S got released, its marquee feature Touch ID system was cracked within few days by a group of German hackers, CCC (Chaos Computer Club) using semi-transparent latex mold.
Whereas the "eye-scanning" aka "iris recognition" technology involves camera technology with subtle infrared illuminations to capture detailed nerve pattern on the iris.Using this data, digital templates can be created by mathematical and statistical algorithm to form accurate profile.
This biometric technology is foolproof and nearly impossible to crack by any imposters; it is currently by used by many countries for identification purposes in passports for air travelling.
Even India's UIDAI (Unique Identification Authority of India) is using iris recognition technology in the on-going national ID enrolment scheme, Aadhaar.
Besides iris scanner, Samsung Galaxy Note 4 is expected to flaunt a different factor with bendable high-resolution (2K: 2560x1440p) display and come in two variants - one with Qualcomm's Snapdragon 805 series CPU which can clock max speed close to 2.7GHz and second model designated for Europe and rest of the global market will house the Samsung's in-house built (yet-to-be-announced) Exynos 5443 chipset paired with the Intel's XMM7260 Cat 6 modem.
Expected specifications of Samsung Galaxy Note 4 include:
| | |
| --- | --- |
| Model | Samsung Galaxy Note 4 |
| Display | 5.7-inch or more with QHD (aka 2K) 2560x1440p resolutions. |
| OS | Latest Android OS |
| Processor | 2.7GHz Qualcomm's Snapdragon 805 series quad-core processor with Adreno 420 graphics engine/Exynos 5443 Octa-core CPU chipset (yet-to-be-announced) paired with the Intel's XMM7260 Cat. 6 modem. |
| RAM | Expected 4GB |
| Storage capacity | Either 16GB or 32GB with options for expansion via microSD card. |
| Camera | Main: Sony's proprietary IMX240 (yet-to-be announced) 16.0-megapixel camera with OIS (Optical Image Stabilizer) featureFront: 2.0-megapixel camera. |
| Network | 3G/4G-LTE (cat.6) |
| Add-ons | Water-proof certifications, finger print sensor. |