Samsung Galaxy Note 5 test model bearing the number: SM-N920A (AT&T) with Android Nougat onboard, has received the Wi-Fi Alliance nod, taking the company one step closer to the public release.
Having said that, Samsung carrier partner AT&T will conduct further tests to weed out bugs. They might even invite select subscribers for beta testing. AT&T will roll-out the Android Nougat based on the feedback.
Going by the previous release pattern, the company is expected to release new update by the end of February or early March.
In a related development, Samsung's other carrier models such as SM-N920P (Sprint), SM-N920V (Verizon Wireless), SM-N9209 (China Telecom), SM-N920R4 (US Cellular), SM-N920R6 (Cellcom) and SM-N920R7 (C Spire) and also the unlocked SM-N9200 version have received similar Wi-Fi Alliance Certifications, SamMobile reported.
For those unaware, Android Nougat brings night mode, bundled notification, improved battery optimisation, multi-window options and more.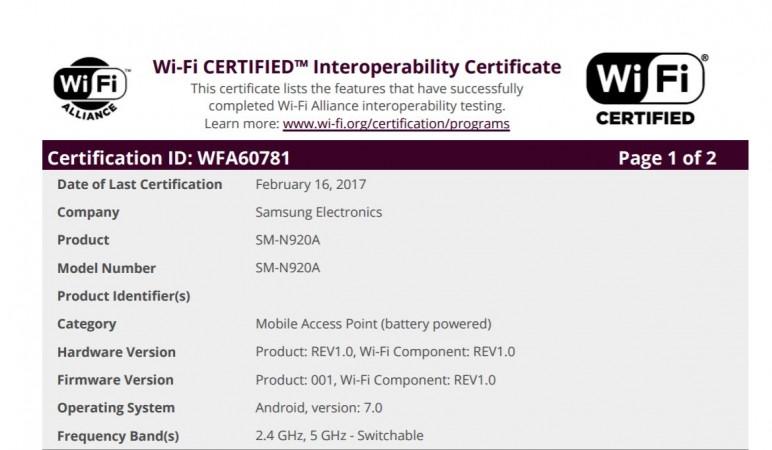 In addition to Nougat features, Samsung has also incorporated custom features, including the Always On Display that lets user change the clock colour, get enhanced accessibility, lock screen personalisation option to improve notifications on display, card dynamic adjustment of display size, revamped calendar app, new font option for titles so that it can be displayed in dominant upper case characters, option to use owner's image for the display, and newer clock styles.
Another add on, Performance Mode, lets users optimise their smartphones with four available modes -- Optimised mode (extends battery), Game mode (provides useful functions such as Game Launcher and Game Tools), Entertainment mode (enhances sound and image quality) and High Performance mode (enables the highest quality display settings possible).
Watch this space for latest news on Samsung products, Android Nougat release schedules.