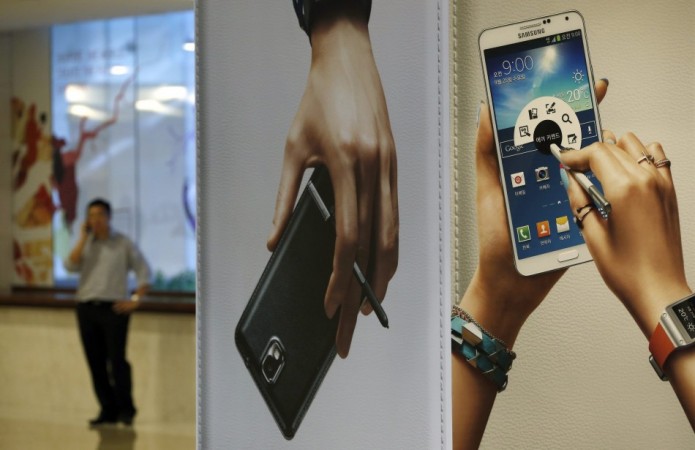 As the Samsung's Galaxy Note 3 get closer to its first year cycle (4 September), the rumor mills are going overboard with the speculations on its successor Galaxy Note 4.
Most of the reports that have surfaced online, are suggesting that the new Galaxy Note 4 would be a major upgrade over its predecessor in terms of design and the internal components.
We have leafed through numerous reports and have pieced together a list of probable specifications, which are likely to make the cut in the upcoming Samsung flagship phablet.
Display and Design:
A few weeks ago, Samsung posted a profit of 7.2 trillion Won in the 2014 second quarter, though the number looks massive for some, it has to be noted the company actually lost close to 25 percent revenue compared to last year's second quarter revenue, which stood at 9.53 trillion Won, reported Forbes. That's not all, the South Korean company's profits also saw some decline in its 2014 first quarter as well.
Now, it has been reported that Samsung in its bid to arrest the tapering profits in high-end smartphone segment, compounded by the rise of the competing Chinese smartphone vendors, especially Lenovo, Huawei and Xiaomi and its arch-rival Apple's big-screen iPhone 6 device (slated for September launch), is contemplating to incorporate different design form for the Galaxy Note 4, probably a bendable screen. Samsung has been very open to media about its research on flexible display and the South Korean firm had even showcased the 'YOUM' display technology at CES (Consumer Electronics Show) 2013, Las Vegas.
Here is a video showcasing YOUM features at CES 2013:
Word on the street is that Samsung's fourth generation Galaxy Note is likely to come in two variants - one having bendable OLED display and a normal flat screen, this is no surprise to the Samsung fans, as the company is renowned for its versatility in rolling out different variants of the flagship devices to the market.
For instance, Galaxy S5, already has more than three variants- Galaxy S5 Mini, rugged based S5 Active for AT&T, S5 Sport for Sprint, camera-centric phone- Galaxy K Zoom and many more (including the budget variant, Galaxy S5 Neo) are said to be in the pipeline.
As far as the screen is concerned, Note 4 is said to keep the same 5.7-inch screen size seen in its predecessor, but its display resolution is expected to go up a notch this time, it said to flaunt an AMOLED based QHD (aka 2K) 2560x1440p resolution display.
Processor, RAM and storage:
The upcoming Galaxy Note 4 is said to come in two chipset variants – one with Qualcomm's Snapdragon 805 series quad-core processor, which can clock a maximum CPU speed up to staggering 2.7GHz (is bound for American markets), whereas the second model will pack the company's in-house built Exynos Octa-core CPU and is said to retail in Europe and the rest of the global region, according to the leaked internal document available with SamMobile.
In terms of storage, one can expect the new Samsung smartphone to come with 32GB inbuilt memory having expandable options via microSD card.
In December 2013, Samsung's Electronics had announced the next generation 20 nm (nanometer) class based 8GB LPDDR4 (Low Power Double Data Rate series 4) RAM for mobile devices.
The company has planned to integrate four of the new 8GB chips into a single 4GB LPDDR4 package that can provide the highest level of performance (50-percent more), density, efficiency, and still be able to consume 40 percent less compared to the current crop of physical memory chips found in the high-end smartphones.
The new memory chip will enable smartphones to support high resolution display, resource hungry 3D games and maximum data transfer rate per pin of 3,200 megabits per second (Mbps).
It was expected to feature in Galaxy S5, but never materialized, now many are expecting Samsung to incorporate 4GB RAM to efficiently manage the big-screen Galaxy Note 4.
Special Features:
Fingerprint Sensor or Iris Scanner?
Samsung has already introduced the finger-print sensor in its current flagship phone Galaxy S5, so in all probability we might see this in Galaxy Note 4 as well. But the recent tweet from the company's chipset arm – Samsung Exynos has hinted that the future smartphones may feature Retina scanner, inciting speculations about the possibility of incorporation of the advanced biometric technology in the upcoming Galaxy Note 4.
Security can be improved using features unique to us. That's what we envision. What would you use? #ExynosTomorrow pic.twitter.com/KLgQ1q9GkP

— SamsungExynos (@SamsungExynos) July 12, 2014
Few months prior to the launch Samsung Galaxy S5 in February, rumors were rife that the phone might boast of Iris scanner, but the speculations died soon after a report surfaced online suggesting Samsung ditched this feature for its technological limitations.
The Iris scanner reportedly required Samsung technicians to plant a second dedicated camera on the front, leading to changes in the Galaxy S5's structural design. This shortcoming forced the company to adopt the fingerprint scanner.
Since then, enough time has passed by for the company to experiment with the new phablet, which is said to have a major design over-haul. If Samsung does become successful in incorporating this bio-metric technology, the company will certainly raise the benchmark for rivals.
For the uninitiated, 'Iris Recognition' is said to be more advanced and near fool-proof system as it involves camera technology with subtle infrared illuminations to capture the detailed nerve pattern on the iris (eye). Using this information, digital impressions are created by mathematical and statistical algorithm so that accurate profile is created. This biometric technology is nearly impossible to crack by an imposter, unlike finger print scanner, which can be forged with a fake thumb print.
[Also read: "Apple iPhone 5S Fingerprint 'Touch ID' Security Feature Breached, Says German Hackers"]
Water-Proof Certifications:
Like the flagship Galaxy S5, Galaxy Note 4 is most likely to boast of IP67 water-and-dust repellant certifications. If this feature does really come in the phablet, then users will be able to operate the phone one meter (or three feet) under water for close to 30 minutes.
Heart-rate Sensor and UV (Ultra-Violet) Sensor:
This year, the new Galaxy S5 came with a heart sensor (below camera module on the rear). Though some were critical on the necessity of this feature in a smartphone, health conscious users praised the company for incorporating it. Now, reports are pouring from South Korea that Samsung is going to up the ante by introducing the ultra-violet sensor in the upcoming Galaxy Note 4.
Samsung community blog, SamMobile says that the company will incorporate the ultra-violet sensor in the proprietary S Health app.
The sensor is said to measure the sun's ultraviolet (UV) radiation and caution users not to venture into the sunlight to avoid damaging their skin, premature aging effect and restrict their risk of skin cancer.
Users need to tilt the Galaxy Note 4 in a 60-degree angle, pointing the sensor towards the Sun's direction, and then the phone will provide guidance based on the current UV index level at that particular place and time.
Though SamMobile swears by its sources that UV sensor will indeed come in the Galaxy Note 4, we recommend our readers to take this piece of information with a pinch of salt as this UV sensor looks too fanciful to feature in a smartphone.
Ultra-Sound Enabled S-Pen Stylus:
Last year, Samsung Galaxy Note 3 came with the value-added S-Pen optimized features like - Air Command, Action Memo, Scrapbook, Screen Write, S Finder, Pen Window S Note, Multi Window, new Easy Clip and Direct Pen Input. This time Samsung in its bid to enhance user-experience is expected to incorporate ultra-sound technology based S Pen stylus.
The Stylus will be able to emit ultra-sonic waves and smartphone's four sensors (placed on both the sides) picks them to perform touch-less gesture functions, according to the Samsung's leaked patent papers (now available with Galaxy Club).
Using of ultrasound technology will also negate the need for a digitizer on the screen, resulting in lower costs and a thinner display assembly, said SamMobile.
This concept is not new to the smart device industry. In April, American chipset manufacturer, Qualcomm introduced a developer tablet model featuring ultrasound enabled stylus.
It has to be noted that Qualcomm's slate is powered by the 805 series CPU, the very processor, which is expected to feature in the Galaxy Note 4 LTE variant.
Check out the Qualcomm's Snapdragon 805 Mobile Development Platform video here:
Mobile Operating Systems:
Since the upcoming Samsung Galaxy Note 4 is a flagship device, it is certain to come with the latest Android OS, either v4.4.4 KitKat or Android L.
Camera:
Samsung Galaxy Note 4 is said to house the Sony's proprietary IMX240 (yet-to-be announced) 16.0-megapixel camera with OIS (Optical Image Stabilizer) feature and a 2.0-megapixel snapper on the front side, according to SamMobile.
Launch Details:
Technology blog, Android Geeks citing sources claim that Samsung is planning to announce the Galaxy Note 4 on 3 September (2014), just days ahead of the popular international electronics trade fair, IFA (Internationale Funkausstellung Berlin) 2014, Germany (5-10 September). All previous Galaxy Note phablet series have been showcased in this very event since 2011.
[It has to be noted that Samsung is a behemoth in technology arena; company likes to show-off its marketing muscle by hosting premiere events to launch flagship devices. Last year, Galaxy Note 3 made its debut in 'Samsung Unpacked 2013 Episode 2' hosted by the company in Berlin on 4 September 2013 and then it was later showcased at the IFA 2013]
Expected Specifications of Samsung Galaxy S5 Include:
| | |
| --- | --- |
| Model | Samsung Galaxy Note 4 |
| Display | 5.7-inch or more with QHD (aka 2K) 2560x1440p resolutions |
| OS | Latest Android OS |
| Processor | 2.7GHz Qualcomm's Snapdragon 805 series quad-core processor with Adreno 420 graphics engine/Exynos 5443 Octa-core CPU chipset (yet-to-be-announced) paired with the Intel's XMM7260 Cat. 6 modem |
| RAM | Expected 4GB |
| Storage capacity | Either 16GB or 32GB with options for expansion via microSD card. |
| Camera | Main: Sony's proprietary IMX240 (yet-to-be announced) 16.0-megapixel camera with OIS (Optical Image Stabilizer) featureFront: 2.0-megapixel camera |
| Network | 3G/4G-LTE (cat.6) |
| Add-ons | Water-proof certifications, finger print sensor/Iris Scanner, heart-rate sensor, ultra-violet sensor, ultra-sound enabled S Pen Stylus |