Samsung's semiconductor business has been the company's top-earning unit over the past few years. After ending Intel's decades-long reign as the world's largest chipmaker in the second quarter this year, the South Korean tech giant is now predicted to beat the American conglomerate in overall semiconductor sales of 2017.
According to the latest forecast by market research firm IC Insights, Samsung Electronics is on track to top the global semiconductor market with a market share of 15 percent and annual sales of $65.6 billion, compared to last year's sales of $44.3 billion.
Intel, which has been dominating the worldwide semiconductor market since 1993, is predicted to rank second with a market share of 13.9 percent and annual sales of $61 billion, which is as much as $4.6 billion less than that of Samsung's predicted sales.
"In 1Q16, Intel's sales were 40 percent greater than Samsung's, but in just over a year's time, that lead has been erased... Samsung's big increase in sales this year has been primarily driven by an amazing rise in DRAM and NAND flash average selling prices," the IC Insights report said.
Back in 1993, Samsung Electronics was at the seventh position with a market share of only 3.8 percent. The company jumped to the second position with a market share of 7.3 percent in 2006 and has continued to narrow the gap ever since.
Intel's journey, on the other hand, has been a mix of ups and downs. Although the company has been leading the market throughout the years, there were times when it saw significant drops in market share.
"It appears that Samsung's accession to the number 1 position in the semiconductor sales ranking this year has had more to do with Samsung gaining market share than Intel losing market share," the report said, adding that the top 10 sales leaders for 2017 are forecast to account for 58.5 percent of the worldwide semiconductor market.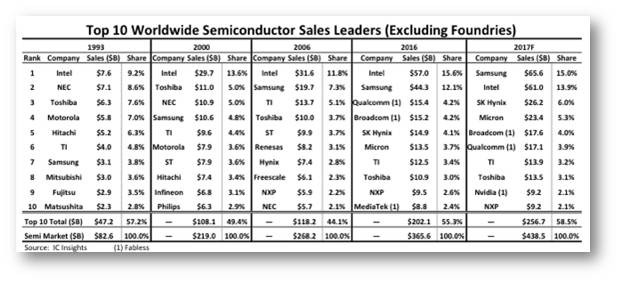 In another report from last week, IC Insights said that Samsung was planning to more than double its spending on the semiconductor unit in 2017. The research firm also said that the company would invest a total of $26 billion in its chip manufacturing facilities this year.
During the third quarter of 2017, Samsung's semiconductor unit logged an operating profit of 9.96 trillion won. The phone business, on the other hand, posted an operating income of 3.29 trillion won.