Vishnu Manchu's 24Frames Factory, which produced "Singham 123", officially released the full movie on its YouTube channel on Monday, 15 June. The film stars Sampoornesh Babu in the lead.
"Singham 123" is a spoof action comedy film, which is set in the backdrop of a village called Singarayakonda. Lingham is a self proclaimed king and mafia-lord in the village. He fancies himself as the destructive force and an archenemy of Law and Order. After several failed attempts by the police, Singham123 is assigned the mission to arrest Lingham. The rest of the film is a laugh riot.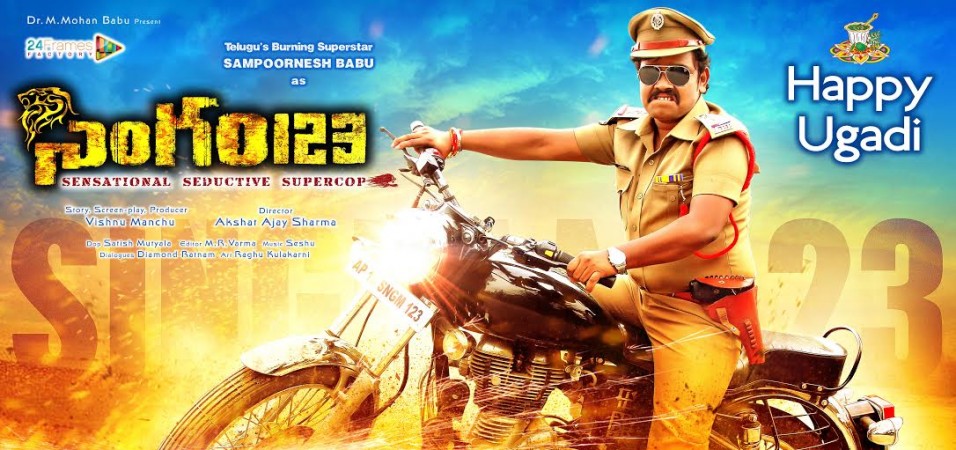 Director Akshat Ajay Sharma has written and directed "Singham 123" featuring Sampoornesh Babu as a sensational, seductive, supercop. Bhavani, Sanam Prasad, Annapurna, Prudvi Raj and Viva Harsha have played important roles in the movie, which has Satish Mutyala's camera work, KMR Seshu's music, MR Varma's editing, Diamond Ratnam's dialogues and P Satish's fights.
"Singham 123" released in theatres on 5 June and received mixed reviews from film critics. But Sampoornesh Babu was once again successful in tickling the funny bone of audience after the release of his debut film "Hrudaya Kaleyam". Despite clashing with other new releases such as "Asura" and "Andhra Pori", the film raked in good figures at the box office.
Just 10 days after its release in theatres, "Singham 123" has officially been unleashed on YouTube. While many filmmakers are groaning about piracy issues, the news of its release has come as a big surprise for all of them. The production house 24 Frames Factory, which has set several new trends, has now kick-started another one by releasing the full movie online.
Even some internet users, who often struggle to find pirated versions online, were surprised and happy to find the full movie on the official YouTube channel of 24 Frames Factory. Click the above video to watch the full movie.