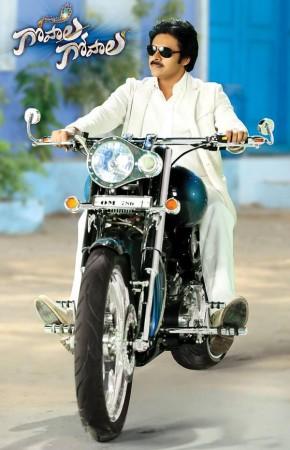 It's well-known that actress Sameera Reddy's husband Akshai Varde is the owner of custom motorcycle building company Vardenchi, but few know that he is the man behind the design of Pawan Kalyan's bike in "Gopala Gopala".
"Gopala Gopala", which released in theatres on 10 January, boasts of several exciting elements, the custom-made bike being one of them.
In an exclusive interview to Deccan Chronicle, Vardenchi owner Akshai Varde gushed his excitement about working on this project.
"We met Pawan's team last year and were given a detailed brief. The idea, much like the bike in Oh My God, was to create something that was as grand as a chariot, more like a vehicle for the modern God," Akshai Varde told Deccan Chronicle.
The production team visited Akshai Varde's factory and finalised on the kind of bike they wanted. Meanwhile, he also took some inputs on what they wanted. "We followed their brief while adding our own inputs. We finished the bike within a month. It makes it one of the fastest projects we've delivered so far," he said.
Interestingly, Akshai Varde was the man, who made the customised bike for Akshay Kumar in Bollywood movie "OMG! Oh My God", which has been remade in Telugu as "Gopala Gopala".
"For Oh My God, we had a support team on the sets, but for Gopala Gopala, they didn't ask for one," said Varde.
There are very few differences between the bikes used in "OMG! Oh My God" and "Gopala Gopala". The main difference is that the bike featured in Telugu film has more of a Krishna theme. "There are more elements of Lord Krishna here. Like the feather etc," he explained.
It may be recalled here that Varde had earlier custom made a bike for Nandamuri Balakrishna in his 2013 movie "Legend". "When we started making bikes people were fascinated with the idea, these bikes commanded attention and they liked it. Slowly the film industry got intrigued and they approached us," said Varde.