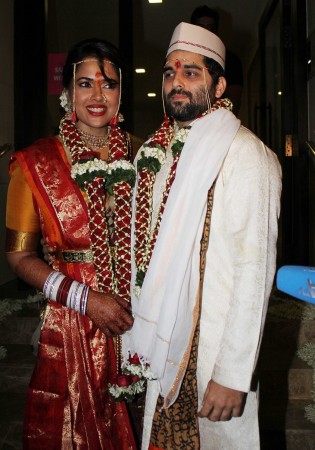 Bollywood actress Sameera Reddy, who tied the knot with businessman Akshai Varde earlier this year, is pregnant with her first child and all excited to deliver the baby in May 2015.
In a statement to the media, Sameera Reddy confirmed the news about her pregnancy and delivery date. "Yes, we are expecting our first baby and we are very very happy. I'm being careful and keeping a low-profile. Our child is expected in early May. God has been very kind. I am blessed," DNA India quoted the actress as saying.
Sameera Reddy first featured in the music video of ghazal singer Pankaj Udhas's "Aur Aahista" in 1996. She made her acting debut in Bollywood in the film "Maine Dil Tujhko Diya" in 2002. In her career spanning 12 years, she has featured in more than 32 movies in various regional languages like Hindi, Telugu, Tamil, Malayalam, Bengali and Kannada. She was last seen in the Kannada film Varadhanayaka.
Besides acting, Sameera Reddy has also done several photoshoots. Her husband Akshai Varde is the owner of Vardenchi motorcycles and she met him during a photoshoot. After dating each other for two and a half years, the couple decided to take their relationship to the next level. They got married in January 2014.
When quizzed about marrying a businessman, Sameera Reddy said that she wanted her Mr Right not to be a part of the film industry. "We knew each other for years before our marriage. Akshai is well-known in his own field but not part of showbiz. I think that was very important for me. I wanted to marry outside the film industry," the actress told DNA India.
Sameera Reddy completed all the projects that she had signed before marriage. She seems to have said good bye to acting, as she has not signed any new project post her wedding. She did a movie Naam with Ajay Devgn in 2009, but its release was delayed due to financial problems. Now her fans will get another chance to see her as "Naam" is scheduled for a release soon.