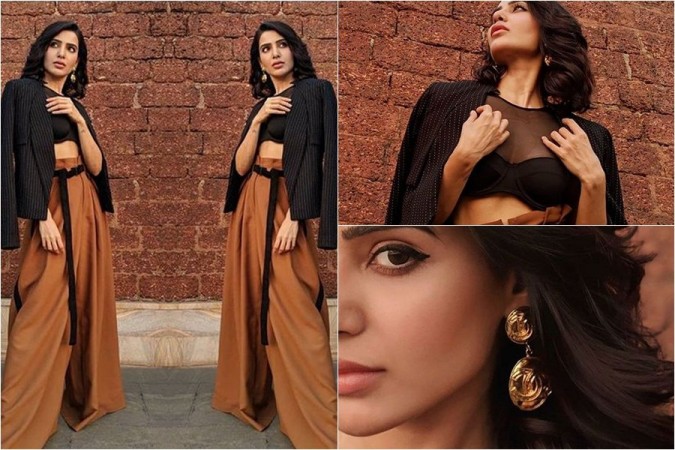 Samantha Akkineni's brand new avatar was featured in her latest photoshoot and it is creating a lot of buzz all over social media. Rakul Preet Singh, who is also a T-Town glam doll says that she is in love with Samantha's looks.
Post wedding Samantha has not signed any new projects and she is busy wrapping up her previous commitments including projects like Super Deluxe, Majili, and the Miss Granny remake. The actress recently featured in a new photo shoot for which she donned cedar pleated trousers and a see-through black crop top. She complemented her urban attire with vintage jewellery to give it an Indo- western look.
Samantha took to her official Instagram on December 6 to share some of these pictures. She wrote, "Outfit by @esseclothing Vintage @chanelofficial earring by @viangevintage Styled by @jukalker Gi @aryan_daggubati Makeup & hair by @tokala.ravi arhakranti.madhil (sic)
Her pictures have so far garnered over 1 million likes and thousands of shares and comments in less than 20 hours. Tamil film critic Sridevi Sreedhar shared those pictures on Twitter and wrote, "She can kill with her smile and she can wound with her eyes... that's @Samanthaprabhu2 for youAll woman, all girl and complete magic. Feast your eyes on these recent pics she posted that reflects her zillion moods"
Actress Rakul Preet Singh, a good friend of Samantha's has worked with her husband Naga Chaitanya in Rarandoi Veduka Chudham. She replied to the above post and said that she looks stunning and she is officially in love with her looks. The Spyder actress tweeted, "@Samanthaprabhu2 full full full hotness is happening!! u look stunning and I'm officially in love with all your looks ❤️"
Surya‏ @surya43550625
I wonder my day would be great ahead, as I've started my day by looking at your tweet and pics ♥️♥️♥️ Love u Sam baby
ɬɧąɩą℘ąɬɧყ ՏAMɩơ۷ɛγ❤‏ @JeenuSamDarling
That True @Samanthaprabhu2 is just killing with her Smile and her eyes Two different lookBut this pics are Really Something very special hotness in her Eyes & love n naughtiness in her eyes @Samanthaprabhu2 #SamanthaAkkineni #Samantha #SamanthaPrabhu
Take a look at her pictures from her latest photoshoot here: