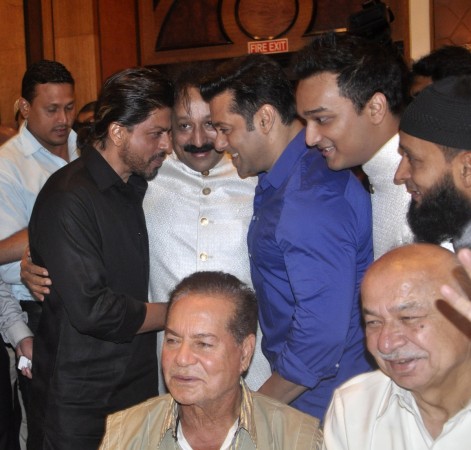 Salman Khan and Shah Rukh Khan's hug at the iftaar party made headlines once again, after stealing the limelight during the same ocassion last year.
But unlike last year, this time the whole hugging episode became the butt of all jokes with #SalmanhuggedSRK and #SRKhuggedSalman Hashtag trending on Twitter.
Twitterati mocked Siddiqui for holding the iftaar party and called it an annual event. Some users also sarcastically said that the politician should get a nobel peace prize for making peace between the two rivals of Bollywood.
Here are some of the jokes that went viral on Twitter:
#SrkHuggedSalman? Marks 21st July as World Hug Day? Or reschedule Friendships Day?

— Yash Patil (@i_yash_1134) July 8, 2014
Breaking News: Baba Siddique nominated for Nobel Peace Prize. #SalmanHuggedSRK — Yash Patil (@i_yash_1134) July 8, 2014
The best part about hashtags like #SalmanHuggedSRK is you get to see who made the joke and everyone else who copied the joke on one page

— Khamba (@gkhamba) July 22, 2013
BREAKING Baba Siddique nominated for the Nobel peace prize for brokering peace between SRK and Salman Khan #SalmanHuggedSRK — The UnReal Times (@TheUnRealTimes) July 22, 2013
oh wow ! #KateMiddleton is in labor and #salmanhuggedsrk , the world is already a better place.

— Shekhar Kapur (@shekharkapur) July 22, 2013
BREAKING: Baba Siddiqui's iftaar party video to be released as movie "Hug at Iftaar" http://t.co/QRtfIJEdC7 #SalmanHuggedSRK — Faking News (@fakingnews) July 22, 2013
#SalmanHuggedSRK biggest problem of the country is solved. Smaller problems remaining are Corruption.. poverty.. unemployment etc.

— Sir Ravindra Jadeja (@SirJadeja) July 22, 2013
#SalmanHuggedSRK biggest problem of the country is solved. Smaller problems remaining are Corruption.. poverty.. unemployment etc. — Sir Ravindra Jadeja (@SirJadeja) July 22, 2013
#SalmanHuggedSRK means it's like #SamsungHuggedApple

— Himanshu Jain (@Himanshu_tweets) July 7, 2014
I hope poonam pandey doesn't take away the credit for #SalmanHuggedSRK. The last thing I want to hear will be about her stripping. — Ashish Soni (@hashishsoni) July 7, 2014
As it has become an annual event, one more holiday should be added to the calendar called , Salman-SRK hug day .

— Riya (@JokesDostiEtc) July 8, 2014
SRK and Salman hug again. Maria Sharapova better know who Baba Siddique is, otherwise she'll get twice the abuse she got last time — The UnReal Times (@TheUnRealTimes) July 7, 2014
Looks like Baba Siddique have devoted his whole life just to organise SRK-Salman hug fest. #Respect

— Finger of India (@IndiaFinger) July 6, 2014
Bollywood needs to stop this remake business. RT @ANI_news Shahrukh & Salman Khan hug at Baba Siddiqui's Iftar party pic.twitter.com/VeOnYibRNn — Sapan Verma (@sapanv) July 6, 2014