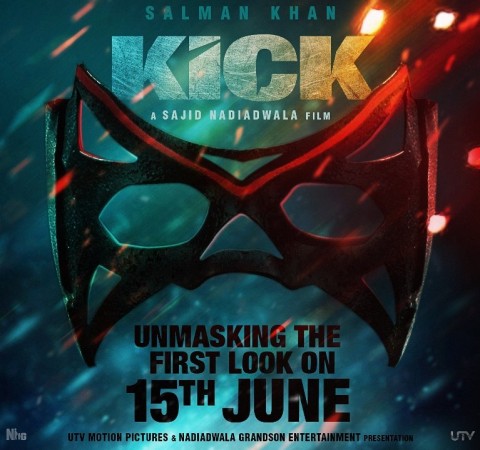 The first sleek teaser poster of Salman Khan's upcoming movie "Kick" is out and looks like that the actor will be the next superhero.
The makers released the poster on Monday on social networking site Facebook. The poster just shows a red face mask in the green background, hinting that the film might feature a superhero angle. The film is a remake of 2009 hit Telugu film "Kick," which is an action comedy film.
With the release of sleek poster, the makers have raised the curiosity of Khan's fans across the country. The first poster and promo of the Sajid Nadiawala's directorial debut will be revealed on 15 June.
"Presenting the teaser poster of #Kick. Unmasking the first look on 15th June," UTV Motion Pictures posted on their Facebook page along with the poster.
"Kick" features Khan, Jacqueline Fernandez and Randeep Hooda in important roles. It will release next month during Eid i.e. on 25 July.
Earlier, the fake photos of "Kick" created by Khan's fans were released online. A group of fans circulated several images on Twitter and Facebook stating that it is the first look of the film.
Khan's fans have also sent several mails creating their version of the posters. Due to all these, the director decided to release the first look and promo this week.
"Sajid has been bombarded with umpteen requests to release the poster of the film soon. The fans have become so impatient that they are now making their own versions of the poster and sending them to him," a source told Hindustan Times.
"Sajid was initially planning to come out with it towards the end of next month or July, but because of the excessive demand by the fans, he will now release the first look of the film before mid-June. While he appreciates the love and eagerness of the fans, he wants only the authentic material related to the film in the market," the source added.
Similar thing happened in January, when fans circulated fake posters of "Jai Ho" online.