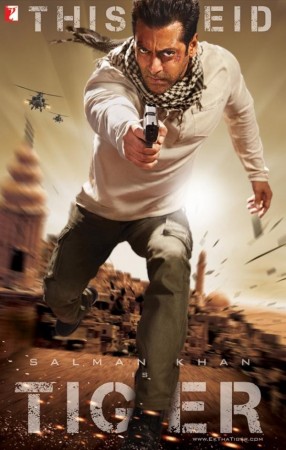 A video showing Salman Khan's six-pack abs in the 2012 movie "Ek Tha Tiger" that has gone viral is fake.
Mumbai Mirror on 23 September published a story saying that Salman's abs, which are the highlights of his films, is fake and is created with the help of VFX technology.
The company reportedly corrected the flaw in the shirtless scene in "Ek Tha Tiger" and the video of people correcting the scene was leaked online.
Apparently, an annoyed employee, who was fired from Tata Elixes company, uploaded the video online, which went viral. The 'grudge' video shows that Salman's abs are not real and instead its computer generated.
"Salman was shocked that the film's director, Kabir Khan, had edited out his shirtless shot. The actor called up the producer and said that if it wasn't incorporated, his fans would be disappointed and Brand Salman would take a beating. And that was the reason why the computer graphics came into play," Mumbai Mirror quoted an insider from company as saying.
While, Salman has not commented on the whole issue, the director of "Ek Tha Tiger" has called the story as completely fake.
The Mumbai Mirror story on Salman's abs is rubbish... somebody's imagination is in overdrive...

— Kabir Khan (@kabirkhankk) September 23, 2014
According to the leading daily, a certain part of the video shows that he has flat tummy. "What with Salman's health issues? We understand that maintaining an actual six-packs could prove unhealthy for him. But this revelation makes us doubt everything we see on the big screen these days," Mirror reported.
Salman going shirtless and flaunting his ripped body has become a trend. His fans went crazy when he showed his perfect six-pack abs in "Ek Tha Tiger". Hence, the video came as a shock to several people, especially his fans.
Watch the video below: