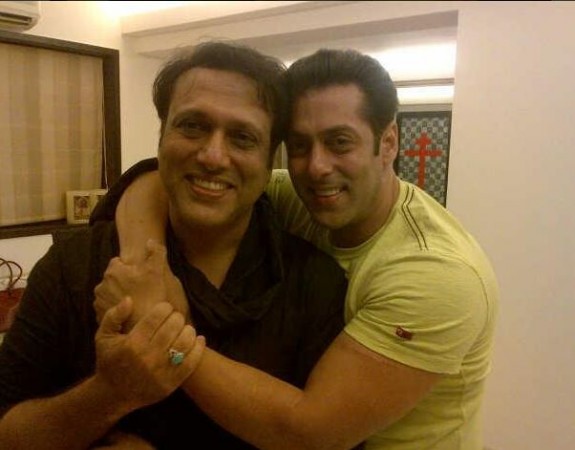 Salman Khan and Govinda are considered to be one of the best buddies in Bollywood. Govinda and Khan were last seen in David Dhawan's film "Partner" and since then their fans want them to come back together on the silver screen.
And Khan's latest tweet hints that the duo might work in the sequel of their hit film "Partner".
The "Jai Ho" actor took to his twitter handle and posted a series of tweets and photos with Govinda.
"I am sending u a pic .Trying to convince govinda to do a film vit me, but partner not getting convinced. So I leave it to u to convince him," he tweeted.
Here yeh dekho mere partner ko . Aah mere yaaro aah oh Koi partner ko samjhao . 4 yrs I am trying to convince him. pic.twitter.com/sewTUZmSUP

— Salman Khan (@BeingSalmanKhan) June 5, 2014
Later he tweeted saying that his partner (Govinda) got convinced. "Thx samaj gaya partner." He also posted a photo of him with actor Mahesh Manjrekar and his partner.
Hey baga . Me mahesh ani govind . Title, god only knows. pic.twitter.com/1DAfHO4lLL — Salman Khan (@BeingSalmanKhan) June 5, 2014
There were reports of a fallout between Khan and Govinda and the "Hero No.1" is said to have been miffed with Khan for not promoting his daughter Narmada in the industry.
But his recent posts suggest that all is now well between the two actors.
On Tuesday, Khan paid a visit to Govinda at his residence, where he clicked the photos with the latter and Manjrekar.
Govinda has maintained that the actor is his close friend. Even a close associate of Khan said that the actors are good friends.
"I have no idea whether they met recently or not. But I believe the question of their patch up doesn't arise as there were no issues between them. Yes, it's true that Salman had offered a role to Govinda but Chi Chi bhaiya didn't like it and politely said no. But that hasn't affected their friendship. Salman respects Govinda and Govinda treats Salman like his brother," a close associate said, according to Deccan Chronicle.