Bollywood superstar Salman Khan delighted his fans with his first video Q&A session on Twitter recently. His fans asked him several questions about Tubelight, which is set to hit screens on June 23.
Salman Khan had an interaction with fans on Twitter as a part of the promotion of Tubelight. The film generated over 110,000 conversations on the social media site. To mark this special event, a set of the best tweets from Salman's Q&A was curated on Twitter Moment. Here are some highlights and a video from the session:
Fan: As we know there are a lot of kids in the film. How was the whole atmosphere on set like?
Salman: There is one kid in the film and his name is Matin Rey. He is playing a character called Guo Guo. I can't pronounce his name and I kept calling him Gu. He was saying Gu nahi Guo Guo. He is playing a Chinese kid in the film and I absolutely love and adore him.
Fan: What was your most cherished memory, while working with your brother on Tubelight?
Salman: Every single moment, working or not working with my brothers, is the most cherished moment of my life.
Fan: Which is your favourite song from Tubelight?
Salman: I like all the songs of Tubelight. You will like the songs like Agar, Tinka Tinka, Radio and Nach Meri Jaan, when you watch them on the screen.
Fan: The best compliment you have received from your father?
Salman: The best compliment I have received from my father is for Tubelight. He said that you have done a good job.
Fan: When you are doing a role like Lakshman, when you come back home does it still stay with you?
Salman: Usually, you don't take any character home, as the shot is cut while filming it. But the kind of films I am doing, be it Bajarangi Bhaijan and Tubelight, I have only been doing films that I can take back home. If I can try this on screen, I will also try and implement at least a little bit of it in my real life.
Fan: Will we get to hear any song from Tubelight in your voice?
Salman: Yes! You might! Only when I am doing a concert, I will sing those songs in my voice.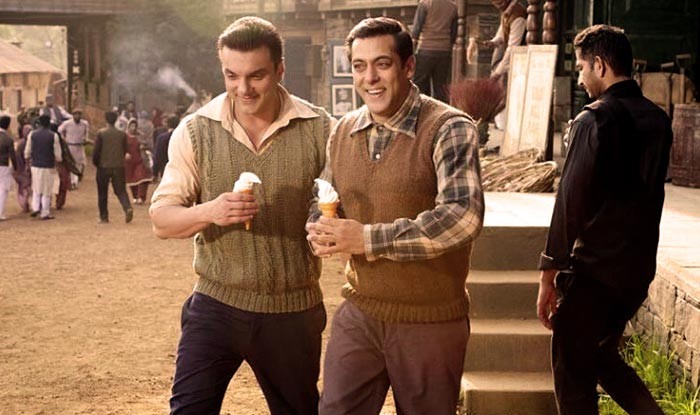 Fan: Which was the toughest scene for you in Tubelight?
Salman: Everything was very simple in Tubelight, but emotionally it was quite disturbing. Sohail is playing my brother in the film. He goes to war and I am wondering whether he is coming back to me and will be with me or I will be left alone all of my life. That one emotion of brother was really tough for me.
Fan: Is Tubelight something that Salman Khan has never done?
Salman: Yes! I have never done a film like this and that's reason I wanted to do it. The best thing of the film is that I get to play this character with my real brother. So there is no acting involved and it's just how are in our real life. We played exactly like that.
Fan: What was the whole thought behind the Radio step? Can you tell us?
Salman: I have not done any contribution for the moves of the song Radio. It was Remo's idea and he showed those steps. I liked it and did it in the film.
Fan: Like Kaptaan and Badhu, did you have any nicknames for each other growing up?
Salman: We have never had nicknames. Sohail has always been Sohail. He calls me Bhai as he is younger to me. So today, I have become Bhai to the whole world. With a lot of love and respect, people call me Sallu Bhai, Bhaijaan and kids call me Salman and I love that.
Fan: One thing Kabir Khan has that other directors don't have?
Salman: Kabir Khan does not make clever films. He goes by emotions.
Fan: Tubelight sabko light deta hai. What is the one thing in your life that lights up your life?
Salman: Love, honesty, loyalty, brotherhood, family, friends, festivals, happiness light up my life.