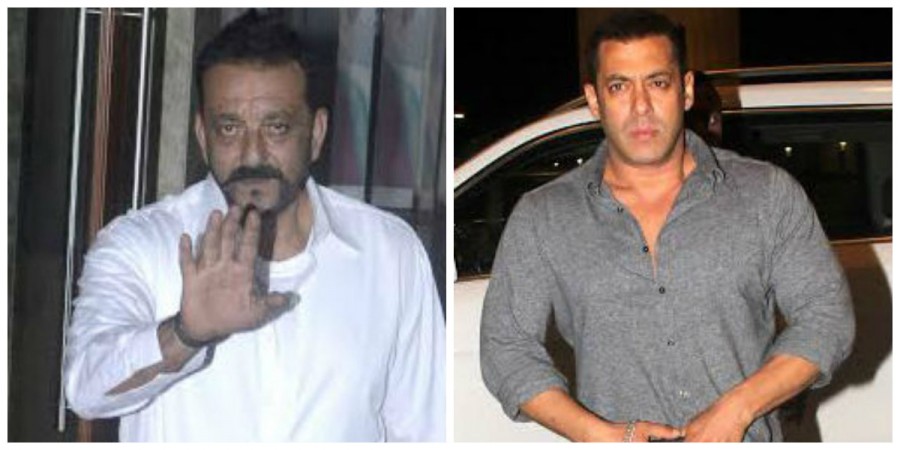 Salman Khan and Sanjay Dutt have shared a close bond for ages, but everything changed when the "Munna Bhai MBBS" actor came out of prison. The recent buzz is that Sanjay's wife Manyata is playing peacemaker between the two and is trying to patch things up.
There were reports that the rift between Sanjay and the "Sultan" actor started when Ranbir Kapoor was chosen to play the lead in Sanjay's biopic. Salman and Ranbir have apparently never shared a good equation and the reason is believed to be Katrina Kaif.
Manyata is eager to play peacemaker between the two stars, who are not on talking terms and are going to great lengths to ensure they don't cross each other's paths. She wants to bring an end to the cold war and revive the longstanding bond," Mid-Day quoted an industry source as saying.
Also, speculations were rife that the stiffness in relations between the two apparently involved Salman's manager Reshma Shetty too, who the superstar had recommended to Sanjay to help revive his career. But after hiring the manager, Sanjay didn't bag a single project and later, learnt that Reshma had increased his fee to a huge extent and hence producers, who were initially eager to cast Sanjay, had started approaching other actors.
According to reports, an irked Sanjay then cut off professional ties with Reshma, which did not go down well with Salman as he felt that his friend had ignored his suggestion. The 56-year-old actor had tried to explain his point to Salman, but the later reportedly was not convinced.
Now, Sanjay's wife, Manyata, is trying to patch things up between the actor and Salman.
But, Manyata does not want the negativity to fester. She wants them to swallow their pride and get back to being best of buddies. She has already convinced Dutt to let bygones be bygones. Now, she is trying to reach out to Salman by sending messages of peace to put the misunderstanding behind them," the source told Mid-Day.
In fact, it was said that Sanjay and Salman avoided each other at IIFA 2016. Also, Sanjay skipped Baba Siddiqui's Iftar party to avoid the "Bajrangi Bhaijaan" actor.
However, Sanjay's spokesperson rubbished reports regarding the tiffs. He said: "There is absolute no problem between the two and therefore, the question of reconciliation doesn't arrive. In fact, at the recent awards event, Sanjay and Salman had a long chat over coffee post which Sanjay even attended a party hosted by Salman."