Salman Khan has finally responded to Veergati co-actress Pooja Dadwal's request, who is suffering from multiple diseases, for financial aid to continue with treatment. The actress is suffering from Tuberculosis (TB) and is admitted to a government hospital in Mumbai.
Salman said he came to know about Dadwal's condition only recently. The superstar added that his team was already looking into it and assured that he would try to help her as much as he could.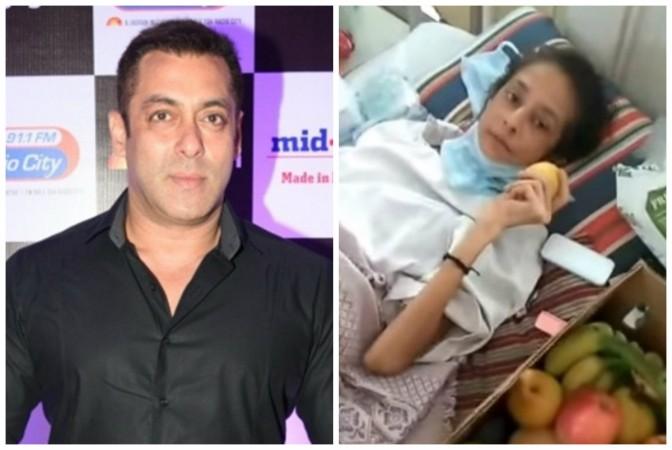 "I know. It's really sad. She is not my co-star, but she was Atul's (Agnihotri) co-star. I just heard about this and we are trying to help as much as we can. And our team is already into it. I was not knowing about this that she was going through this phase. Yeah, I think she will be okay," The Indian Express quoted Salman as saying during the press conference of Da-Bangg tour in Pune.
Dadwal has been in the hospital for over two weeks now. Earlier, a lean and weak looking Dadwal had released a video in which she is seen narrating her ordeal and pleading Salman to support her to find money for treatment.
The actress said she has gone bankrupt and depends on others for even a cup of tea. When the video went viral, many users on social media started requesting Salman to help the lady in distress.
Bhojpuri actor Ravi Kishan had come to help the actress after the plight of the actress made headlines. Kishan had sent some fruits and money to her through some of his colleagues.
"I learned about 6 months ago that I had a serious illness like TB. I tried to contact Salman Khan for help, but nothing has been done so far. If he looks at my video then maybe he will help me. I have been admitted to this hospital for the last 15 days. I used to do casino management in Goa for the last several years. I have no money at all, I depend on others for drinking tea," Dadwal had told Navbharat Times.
In the video recorded by Dadwal, she was heard saying that she doesn't expect Salman to bear all her expenses, but just wants him to fund the treatment. "I want to live again," she was seen saying.
"Salman sir, today, I am at that point in my life when I really need your help. Some of my friends have helped me come out from the well of death. Neither do I have money for my treatment, nor do I have someone to support me. I don't expect any money from you sir, but I want my treatment to be done. I want to live again. I hope, seeing my present condition, you will stand by me," she had said.
It was also reported that Dadwal's husband and family allegedly abandoned her after knowing about her illness. Apart from TB, the actress is reportedly suffering from some lung disease as well.
After making debut in Veeragati (1995), Dadwal was seen in movies like Hindustan, Dabdaba and Inteqam.