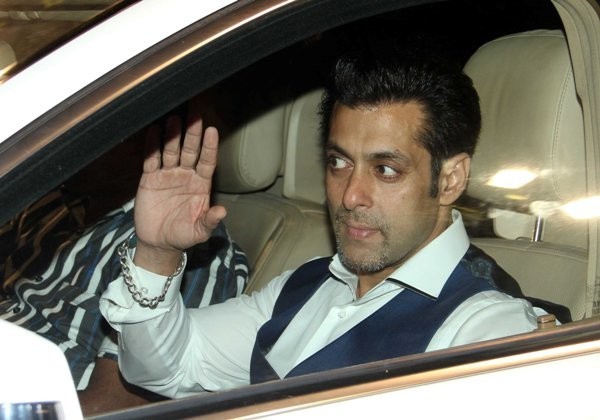 Salman Khan, notorious for his bad temper, lost his cool again and slapped his bodyguard.
The incident happened at Mehboob Studios in Bandra, where the actor was having an interactive session with his fans and clicking photos with them.
During that time, one of his fans tried to hug him for a photo. When the superstar's bodyguard saw the fan getting closer to Salman, he tried to separate that fan and mistakenly hit the fan's arm.
The incident didn't go well with the "Kick" star and he slapped his bodyguard right in front of everyone present at the venue, The Times of India reported.
He also shouted at his bodyguard and warned them to never misbehave with his fans.
This is not the first time the "Dabangg" actor lost his temper over someone. Last year, while shooting for his brother Sohail Khan's "Jai Ho," a photographer irked him by clicking his photos.
Salman immediately asked his brother to take the camera and delete all the photos taken on the film's sets.
In September 2013, Salman was passing by a hospital where veteran actor Dilip Kumar was admitted. When his fans came to know about the actor's presence, they started clicking his photos, which angered him. He rolled down his car's window and took the phone from his fan's hand and threw it away.
"We respect him and wanted to take a picture of him from my mobile phone. He opened his car window, snatched my mobile phone and threw it. The incident really hurt me. For him, the cost of the phone would be less, but for us it would have been a big loss if it would have been broken," that fan told India Today.
In July 2013, Salman lost his temper when a reporter questioned him about Ranbir Kapoor and his ex-girlfriend Katrina Kaif's vacation pictures that leaked online. The actor hurled a tirade of abuse over the reporter for asking about his ex-flame Kaif.