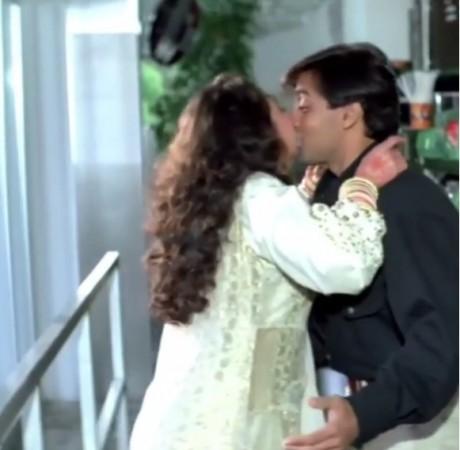 Salman Khan is one Bollywood superstar who is believed to have never had an onscreen lip kiss, but one video has come up on social media that shows otherwise.
Apparently, from the movie Jeet, the song video shows Karisma giving a peck to Salman after he teased her over an ice-cream.
The small clip shows some more romantic moments between the two. After the kissing scene, Salman is seen relishing on a chewing gum that was already chewed by Karisma. While some found the scene cute, some others just expressed their views with the word "yuck".
The video has appeared on Instagram and has received a lot of attention. Many are surprised to see the video as even they believed that Salman had never lip kissed any actress onscreen. "And they say Salman never kissed on screen [sic]," one person commented on the post.
However, it was just a small peck on the lips and not like typical lip-lock. Earlier, Salman during a chat show had said that he never felt the need to do any kissing or intimate scenes in his career.
Check the video below.
There were reports that director Ali Abbas Zafar wanted Salman to have an intimate scene with Katrina Kaif in Tiger Zinda Hai, but the actor refused to shoot any such scene. It was reported that the film-maker had tried to convince Salman to break his no-kissing-clause just for once, but he remained adamant, and the idea was later dropped.
Meanwhile, Salman's latest release Race 3 had created a havoc at the box office with its opening weekend collection. Despite having negative reviews from critics, the movie had a fantastic start at the commercial circuits, but its business dropped drastically during the weekdays. It is being called one of the worst films of the superstar.