Priyanka Chopra recently ditched Salman Khan and went ahead with Chris Pratt's movie Cowboy Ninja Viking. This has given rise to a Twitter war between the fans of Bharat actor and the Hollywood star.
Priyanka was roped in as the female lead of Salman's Bharat, but the actress suddenly walked out of the project, apparently due to her wedding plans with Nick Jonas. However, soon after she quitted Bharat, PeeCee signed Chris Pratt's film.
This news came as a shocker for many, mostly Salman Khan fans. Irked by Priyanka's decision, they have been making tweets, saying the actress chose to reject a superstar's offer for a "nobody" in Hollywood.
This did not go down well with Pratt's fans, and in no time, comparisons are being made between the two actors' net worth and stardom. Also, fans of the two stars have been trying to put each other down by comparing their social media followers and the quality of their films.
However, as far as popularity and net worth are concerned, Salman is way ahead of Chris. According to celebrity net worth.com, Salman's net worth is $260 million, whereas, his Hollywood counterpart's net worth is $40 million.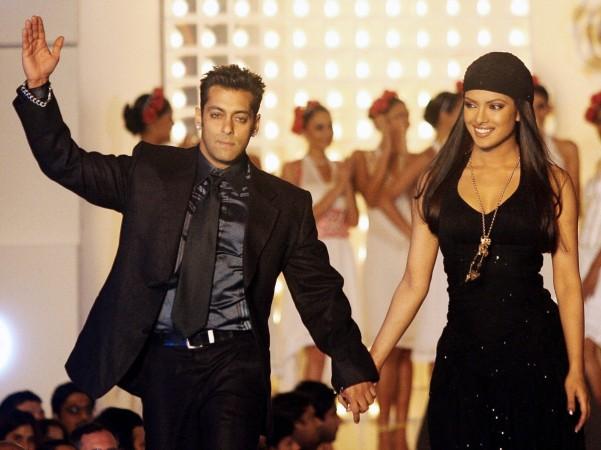 Speaking about the two stars' popularity on social media, Salman has 36 million followers on Facebook, 34 million followers on Twitter and 17.5 million followers on Instagram. On the other side, Pratt has four million followers on Facebook, 5.97 million followers on Twitter and 21.1 million followers on Instagram. The only platform where the foreign actor is ahead of Sallu bhai is on Instagram that also not by a huge margin.
This data has given Salman's fans an upper hand in the argument, but Pratt supporters defended him by mentioning the list of critically acclaimed films done by the latter.
Check some of the tweets:
Forbes worlds highest paid actors-

Salman- Rank 7 ($37M)
Chris Pratt- Rank 19 ($17M)

Net worth-
Salman- $310M
Chris Pratt- $30M

Social Media followers (fb+twitter)-
Salman- 70M
Chris Pratt- 9.9M

— Robinhood (@SalmansForce_) August 1, 2018
Priyanka Chopra has chosen Chris Pratt over Salman Khan? Good for her.

— Arnab Ray (@greatbong) July 31, 2018
For the people whining that PC left #SalmanKhan's #Bharat for a "nobody" like #ChrisPratt, FYI Pratt's net worth is est at $US40m & he's regarded as one of the most bankable actors in the WORLD. Its dog eat dog. Why should she play arm candy to Khan when she can get that?

— BollyBrit® (@BollyBrit) July 31, 2018
I'm no Salman fan but Salman's net worth is 7× of Chris Pratt.
Leaving a project a week before the schedule begins is very weird.

I also believe she will have to play a second fiddle in the Chris Pratt movie and suffice with a 20min appearance.

— Brijwasi Madhuram (@BrijwaSRKman) July 31, 2018
Yes for @priyankachopra as Chris is Hollywood n ppl r watching her there but here she is a veteran n of no use.. N I'm glad she is out of #Bharat

— Stardom Boleto Salman (@jaihosalman11) July 31, 2018
Chosing Chris Pratt's ( Major Part of 2 Blockbuster hollywood Movie series) over Salman's Film ( Any actress can do it even daisy shah) is absolutely justified. Why Bollywood fans/Bhai fans are angry on PC?

— SADDY (@king_sadashiva) July 31, 2018
Hindi cinema doesn't require any talent lmao..

Now Priyanka Is Talentless ?

Don't even try to compare the two. Stop embarrassing yourself. ??????? Wtf!!!!!

Chris Pratt Last Solo Release Movie Flop ? pic.twitter.com/lf40vGeDD1

— SALMAN (@BadassSalmaniac) July 31, 2018
Salman Facebook Follower 36.4M >> Chris Pratt Twitter + Insta + Fb 31M ???

— SALMAN (@BadassSalmaniac) July 31, 2018
Chris is bigger in hollywood, salman is bigger in bollywood.
Chris's films make minimum 1000 crore+ whereas sallu's crap movies make barely 300 crores.? Lol

— ViB (@ViB_S172) August 1, 2018
Although neither Salman nor Pratt would be bothered about this Twitter war between their fans, Priyanka's decision certainly caused much hullabaloo.