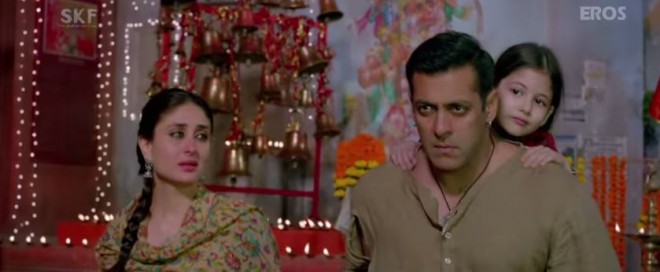 Salman Khan-Kareena Kapoor Khan starrer "Bajrangi Bhaijaan" is set for a massive release worldwide. Kabir Khan's directorial film will be released in approximately 50 countries, including Pakistan, USA, UK and UAE among others.
Bollywood has four major markets internationally, which are USA, UK, UAE and Australia, and "Bajrangi Bhaijaan" will release in these countries during Eid in nearly 450 screens.
Salman's "Bajrangi Bhaijaan" will have the widest release of the year, so far. The film will be released in more than 4500 screens in India.
Box office expert Taran Adarsh said that the film is very popular among the audience and thus it has got one of the widest releases worldwide.
"Expectations from Bajrangi Bhaijaan are humongous, mainly because it is releasing on Eid, and brings back the combination of Salman Khan and Kabir Khan (director) after the successful film, Ek Tha Tiger (2012). If the movie gets a wide release in India, as well as in the international markets, it only goes to prove that the film is piping hot among the audience, distributors and exhibitors," Adarsh said.
Apart from the big markets, the film will be released in non-traditional markets, including Morocco, Tunisia, Korea, Taiwan and Poland. However, these markets will have to wait for the movie for a while, as "Bajrangi Bhaijaan" will hit screens here at a later date.
"Bajrangi Bhaijaan is this year's most awaited film, be it for the audiences, the distributors or exhibitors. This will be Salman's widest release till date in India and in the overseas market. We are confident that the content of the film will not only be loved by his fans in India, but will also resonate with newer audiences across the 50-plus countries that the film will release in," Amar Butala, co-producer and COO, Salman Khan Films, said.