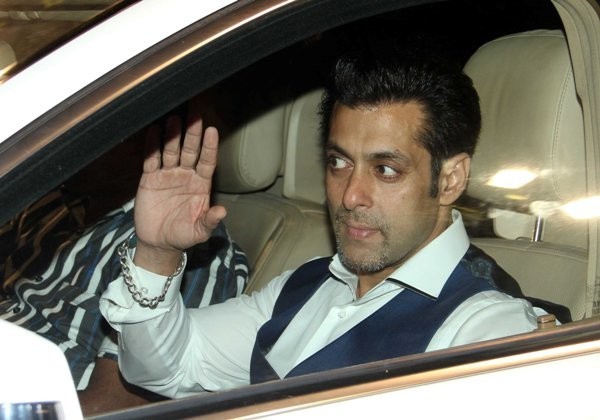 While most of the A-list actors of Bollywood are known to charge huge amounts for their movies, Salman Khan, who is riding high on the success of "Kick", is set to leave all actors far behind. Salman will reportedly take home a whopping ₹150 crore for Karan Johar's "Shhuddhi".
Though Johar's Dharma Productions is known to make most of the movies with the filmmaker's favorite Shah Rukh Khan, the production house this time went ahead and roped in Salman for their upcoming flick.
"Firstly Salman has asked for the entire first week's worldwide collection as part of his fee. Secondly, Salman asked and got 40 percent of the satellite rights of Shhuddhi. And finally from the accrued profits of the film Salman will get 20 percent, while Dharma will walk away with 80 percent," a source told Bollywoodlife.com.
"Actually it's all between the producer and actor these days. But a 150 crore fee sounds too high to be true," trade analyst, Taran Adarsh told Pink Villa.
Recently, Hrithik Roshan too made headlines, when he chose not to share the profits of his film but to take home a whopping amount of ₹50 crore for Ashutosh Gowariker period movie "Mohenjo Daro".
While, Roshan's ₹50 crore deal added him to the list of highest earning Bollywood stars, "Shhuddhi" would make Salman the highest paid Indian actor till date.
"Shhuddhi" is expected to hit screens for Diwali 2016. The film has been in the news ever since the project was initiated. Earlier, Roshan and Kareena Kapoor Khan were announced as the lead in the film, but the actors backed out after the production got delayed.
Later, Ranveer Singh, Aamir Khan and Shah Rukh's names were also associated with the project. Moreover, there were also some reports claiming that the film had been shelved. However, the makers are yet to announce the leading actress of the film along with other cast and crew members.
Meanwhile, Salman is on cloud nine after his latest film, "Kick" received an overwhelming response from the audience since its 25 July release. The action film has amassed around ₹83 crore in the opening weekend at the box office. "Kick" also stars Jacqueline Fernandez, Randeep Hooda and Nawazuddin Siddiqui in pivotal roles.