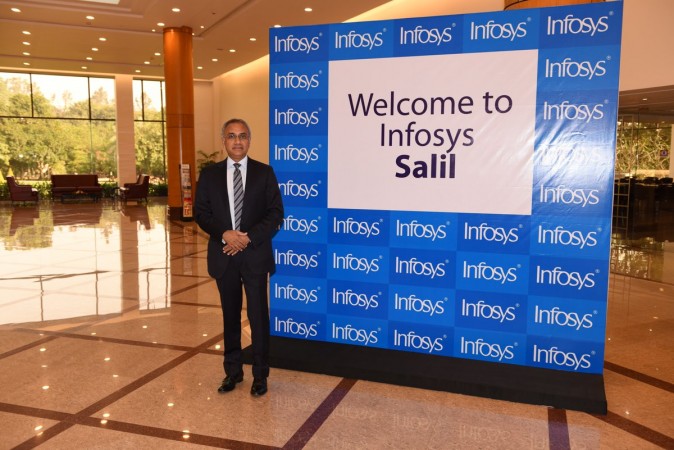 Salil Parekh on Tuesday took charge as the chief executive officer (CEO) and managing director of India's second largest IT firm—Infosys. He started his new stint in a low-key manner with hardly any of the top executives or founders present in company's Bengaluru headquarter, reported Business Standard.
He, however, said that he is excited to lead the company at a time when technology is changing at a fast and disruptive pace. Speaking to employees in video call, Parekh said that he is delighted to lead the company.
Parekh was welcomed by Infosys's human resource head Richard Lobo and Deepak Padaki, head of mergers & acquisition, who were later joined by chief financial officer (CFO) M D Ranganath.
This is rather a silent reception for a new CEO, as back in 2014, co-founder N R Narayana Murthy himself introduced Vishal Sikka as the new CEO of Infosys. Not just Murthy, the entire board of directors including the then chairman, K V Kamath, were present to extend a warm welcome to Sikka.
The reason for such muted induction could be because of Parekh only. He has maintained a low profile for over three-decade even after serving in some the biggest IT giants at top executive level.
After the brief welcome ceremony, Parekh met some employees and toured the sprawling Infosys campus, he was even seen posing for a selfie with a few of them.
Parekh's role in Infosys is going to be challenging, considering the fact he being the second non- Infoscion to head the company after Sikka. After almost a year-long standoff between Infosys' co-founders and the leadership, Sikka quit in August this year.
Some of the big tasks for Parekh will include driving growth in the midst of increasing scrutiny by the US administration (company's largest market), retaining talent and skilling manpower on new-age technologies like artificial intelligence (AI) and machine learning.