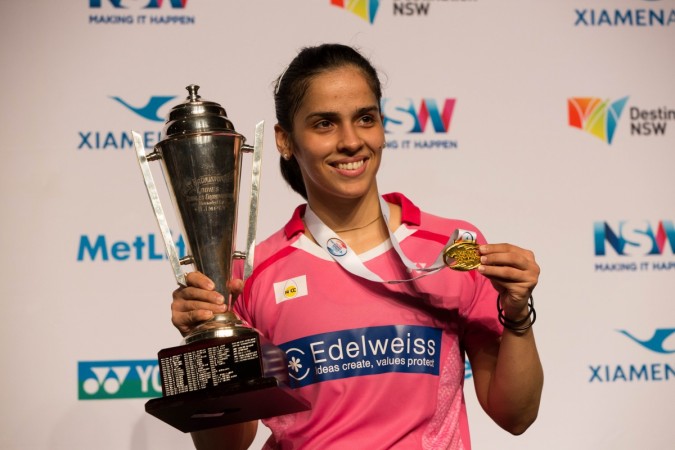 Indian badminton star Saina Nehwal grabbed the limelight once again on Sunday after she recorded a hard-fought victory over China's Sun Yu to clinch the Australian Open 2016. With Rio Olympics around the corner, the shuttler has set her eyes on improving one more attribute of her game — aggression.
And she has found the one inspiration who can help her improve on her on-court aggression even further — India cricket team hotshot Virat Kohli.
Like several Indians, Kolhi, 27, also took to Twitter to congratulate Saina on bagging her second Australian Open title. "Congratulations Saina. So happy for you. Onwards and Upwards always #ProudIndian [sic]," wrote the Indian Test Cricket skipper.
Saina, on her part, replied that she was keen to have that aggression in her game, which Kohli shows on the field. "I would love to get more aggression like u for winning more matches. I m trying hard for that. Thank u so much [sic]," wrote the 26-year-old shuttler.
Vimal Kumar, Saina's personal coach, is also happy to see her student getting faster and improving on her attacking skills on the court. "In my opinion, she is moving much faster and attacking than ever before. This win should spur her preparations towards the Olympic Games in August," ESPN India quoted Kumar as saying.
"There is a lot of scope for improvement and the next six to seven weeks, which will help her prepare better," he continued. When you have no aches and pains and that you gain by doing the right physical conditioning you can get to a level and play to your potential. Saina to a certain extent is able to find a good balance in her work outs."
Meanwhile, the Badminton Association of India (BAI) had announced that Saina, who won a bronze medal in the 2012 Olympics, will be awarded Rs. 10 lakh for clinching the Australian Open 2016. "I congratulate her for this marvellous victory. This is another milestone in her career," the Press Trust of India quoted BAI president Akhilesh Das Gupta as saying.
"This win will sure motivate her for the most important Rio 2016 Olympics where she is leading the Indian badminton contingent. I also congratulate her coach Vimal Kumar and support staff, who have been on their toes to bring out the best of Saina."