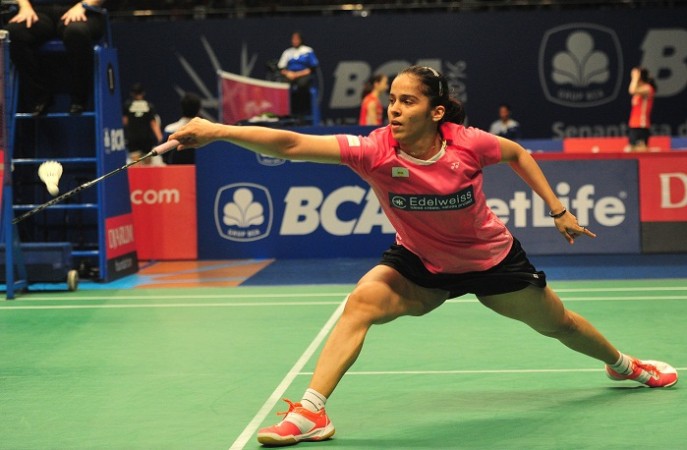 Saina Nehwal won her second Australian Open title, defeating China's Sun Yu, 11-21, 21-14, 21-19 on Sunday. Saina, after losing the first game, showed some great character and composure to win the title.
Saina looked impressive in the final, having showed some great form earlier in the competition, defeating the likes of Ratchanok Intanon and Wang Yihan in her last two matches, which must have given her huge confidence to take on Sun Yu in the final.
The first game got off to a close start with both players looking confident in the final, and the scores were tied at 4-4 during the initial exchanges. But Sun Yu looked better and used her height and reach to good advantage against the Indian shuttler, who made some errors at the net. Sun Yu took a lead of 10-5, after which it was all about the Chinese shuttler, who looked in complete control of the first game, and won 21-11.
There was serious need for Saina to get back into the final by clinching the second game, and she did exactly that. Saina looked sharp, and the match was tight with the score reading 4-4 again. With some good plays in the second game, Saina was forcing Sun Yu to make those errors, helping her earn points.
Both players were not giving one another an inch, making the final even spicy as they tied at 7-7. Sun Yu was attacking Saina's body with her smash, and it was working well, but the Indian star weaved her magic through and took 11-8 lead midway into the second game.
Saina began to pressure Sun Yu at the net, and clinched some important points to make it 14-12 after the Chinese shuttler crawled back. Saina gathered huge confidence in the second game, and clinched it, 21-14.
Saina took a lead at 3-1 in the deciding game, but Sun Yu tied it at 3-3, and the Indian shuttler increased it to 6-3. Though Sun Yu was looking tired, she did not give up, using her powerful smashes to put Saina in the backfoot, and again levelled it at 8-8.
The match became even more interesting with both the players showing fine skills at the net as well as the back end of the court. Saina was inching closer to the title, with a lead of 15-13, and she increased the point advantage with some powerful plays to 17-14.
After a few close points, Saina managed to win the third game, 21-19, along with it the Australian Open title as well.