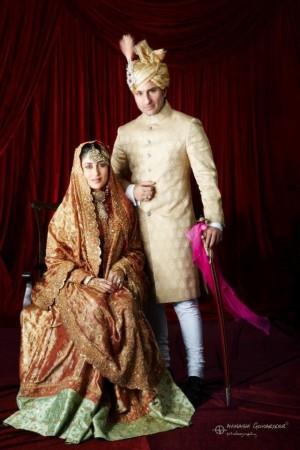 Bollywood actor Saif Ali Khan holds huge ancestral property in his name worth ₹750 crore, according to reports.
As the son of the last titular Nawab of Pataudi, Mansoor Ali Khan, Saif owns the palace and some other family properties, said The Times of India (TOI).
"Mansoor Ali Khan Pataudi has left the lion's share of his assets to his only son Saif. His daughters Saba and Soha are also reportedly mentioned in the will and are beneficiaries," a source told TOI.
The actor denied the report saying that he doesn't know the exact value of the property.
"I do not think the property is valued at as much as that. I don't really know the exact amount, but it sounds a bit high. It's ancestral property, so beyond value," Saif told the leading daily.
It is reported that after Saif and Kareena's wedding in October, his family was expected to resolve some property issues. Actress Sharmila Tagore will represent her late husband Mansoor Ali.
After Mansoor Ali's death in 2011, Saif was declared the tenth Nawab of Pataudi by villagers of the state, as per norms. The title was long abolished by the government.
Saif's paternal grandfather Iftikhar Ali Khan Pataudi was the eight Nawab of Pataudi. As a cricketer, Iftikhar played for England and was captain of the Indian national cricket team. Saif's grandmother Sajida Sultan was the Begum of Bhopal and the second daughter of Hamidullah Khan, the last ruling Nawab of Bhopal.
Mansoor Ali was a famous cricketer and lead the Indian cricket team from 1962 to 1970. He was the ninth Nawab until 1971, when India abolished the titles through the 26th Amendment to the Constitution of India.