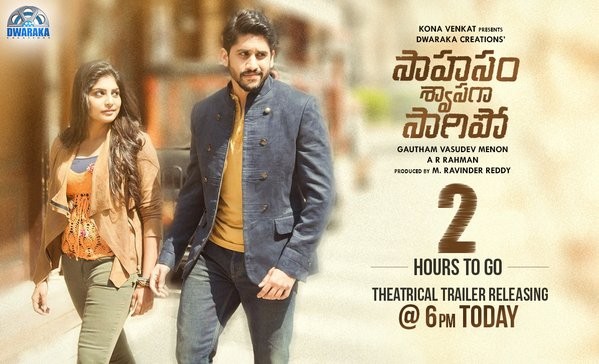 Director Gautham Menon has released the theatrical trailer of "Sahasam Swasaga Sagipo" (SSS) starring Naga Chaitanya and Manjima Mohan. The video has impressed viewers and enhanced the curiosity level around the movie.
The posters and teasers of "Sahasam Swasaga Sagipo" have generated a lot of public attention. The makers of the film, who are thrilled over the huge response, announced the news of its trailer release on its official Twitter handle. They tweeted, "Be the first to watch #SaahasamSwaasagaSaagipo Theatrical trailer @ 6PM Today."
The makers released the theatrical trailer of "Sahasam Swasaga Sagipo" on its official YouTube channel and posted the link to the video on its Twitter page. Minutes after its release, hundreds of audience retweeted their post and also shared their impressions about the video. Check out some viewers' comments below.
"Sahasam Swasaga Sagipo" is a romantic thriller film, which is written and directed by Gautham Menon. Naga Chaitanya is playing the hero in the movie, which marks the Telugu debut of Malayalam actress Manjima Mohan, who is appearing in the female lead role. The film has been simultaneously made in Tamil as "Achcham Yenbadhu Madamaiyada."
Oscar Award winning musician AR Rahman has composed the music for the film. The makers plan to release its audio album on June 17. Gautham Vasudev Menon had tweeted on May 27, "Rasaali/ chakori, touching the soul of every listener.Exactly how I felt when I first heard the basic tune Album on june 17th Film-July 15th."
"Sahasam Swasaga Sagipo" will be released in theatres around the world on July 15. The producers announced the release date on its Twitter handle on May 27. They tweeted: "The much waited Album of @SSSMovie will be out on June 17th. Movie to hit the screens on July 15th!! @chay_akkineni @mohan_manjima."