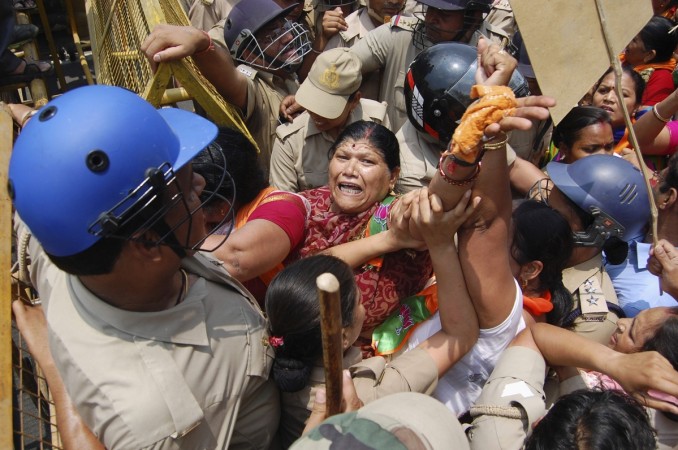 The prime accused in the Saharanpur communal clash, along with five others, was arrested on Wednesday.
Moharram Ali Pappu has been booked under the National Security Act for instigation of riot and for provoking the mob to fire and pelt stones at Sikhs. He is also said to have fired at the paramilitary forces.
"Moharram Ali Pappu has been arrested and National Security Act has been imposed on him," The Hindu quoted Saharanpur District Magistrate Sandhya Tiwari.
Prior to instigating the communal clash between the Sikh and the Muslim community, Pappu had reportedly filed a petition in the court against construction on the disputed land adjacent to the Gurudwara. He had allegedly demanded ₹25 lakh to settle the matter outside the court.
"Moharram Ali Pappu asked the Sabha for Rs. 25 lakh for an out of court settlement, but, we denied him the money," Shri Guru Singh Sabha member Prabhjit Singh noted.
After the riot, an FIR was reportedly registered against Pappu, following which the police found evidences from the CCTV camera footage and arrested the accused.
Along with Pappu, Danish, Mohd Irshad, Mohd Abid, Mohd Shahid and Haji Mohammed Irfan have been arrested and booked for instigating and encouraging the communal clash.
Earlier on Wednesday, a delegation of six BJP members, during their visit to the riot-hit area of Uttar Pradesh, attacked the Saharanpur district administration and accused it of not being able to handle the situation.
"The city, known for its wood work and communal harmony, has to pay the price due to the failure of the district administration and the government in handling the situation, Zee News quoted MLA Suresh Rana, member of BJP delegation.
Rana also accused the ruling party (Samajwadi Party) for sheltering the rioters and claimed that UP has so far witnessed over 150 riots.
The riot took place when the Sikh committee started construction on the land adjacent to the Gurudwara, and the violence killed at least three and injured 34 others. Additionally,165 shops and 42 vehicles were damaged, after which curfew was imposed on the town.