India's first-choice wicketkeeper in Test cricket, Wriddhiman Saha, on Monday (November 13) said that he is not up for sledging despite playing under Virat Kohli, who never misses an opportunity to have a go at opposition batsmen. The 33-year-old added that he learnt a thing or two about being calm from World Cup-winning Indian captain MS Dhoni.
Saha, unlike most modern-day wicketkeepers, does his job quietly behind the stumps. He is rarely seen engaging in conversations with his own teammates, let alone opposition batsmen in between deliveries and is one of the calmest individuals in the team, led by its fiery captain.
Saha revealed he was inspired by the way Dhoni handles himself behind the wickets. The Bengal stumper, who is gearing up for the first of the three-match Test series against Sri Lanka, starting Thursday, November 16, at Eden Gardens, also says that he doesn't want to risk "motivating" batsmen by sledging them.
"Actually, when I have been with Mahi bhai [Chennai Super Kings], I have seen that he also doesn't sledge. He talks, as the captain he spoke to the players – the bowlers and the fielders – but he didn't sledge. I don't think I have ever seen him talk to individual batsmen. I guess that's how I am too; I try to do my work quietly," Saha told Wisden India.
He added: "Also, some batsmen thrive on it; they get motivated when people sledge them. As for me, I don't think I have ever sledged, anywhere. It doesn't come naturally to me."
How Kohli & Co. riled up Steve Smith
Even when things got heated up during the four-Test series between Australia and India earlier this year, Saha did not get distracted but focussed on the job at hand. However, the Bengal stumper revealed how he joined with his captain and other teammates at times to not let opposition batsmen feel comfortable at the crease.
"Recently ... after we lost the first Test [in Pune], they [Australia] started the second Test [in Bengaluru] with the upper hand. They had the advantage, so we were more intense," Saha said.
"Some of their batsmen get angry when you sledge them. Like Steven Smith. When you get negative with him, he gets angry and starts to play his shots more, which gives us a chance. I joined in as part of the team, and some of that worked."
'Want to play as long as possible'
Saha also said that he does regrets waiting for his chance during Dhoni's heydays in whites. Notably, the former made his Test debut in 2010 and had only played two matches until the latter retired from the longest format of the game in 2014.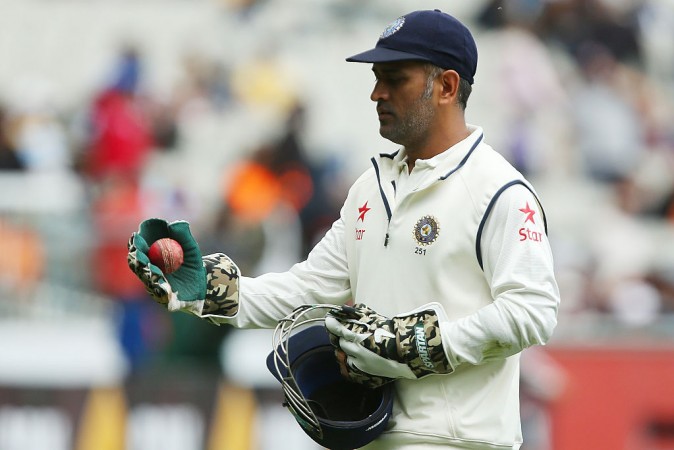 The lanky wicketkeeper has gone on to establish himself as one of the key members of Kohli's Test team that has dominated world cricket in the recent past. Saha has evolved into a dependable lower-middle order batsman, smashing two centuries and scoring at 47.37 in the ongoing year.
"It's true that if Mahi bhai was still playing Test cricket, the amount he contributed ... As a captain, he has won us so many trophies, and as a player, whatever we say is too little. Maybe I didn't get a chance because he was around, maybe I got a chance once in way ... but that was fair," Saha said.
"Now, my aim is to play for as long as possible. There are others in the line, and they are doing their best, exactly as I am. I am trying to play for as long as possible, and that's the challenge," he added.