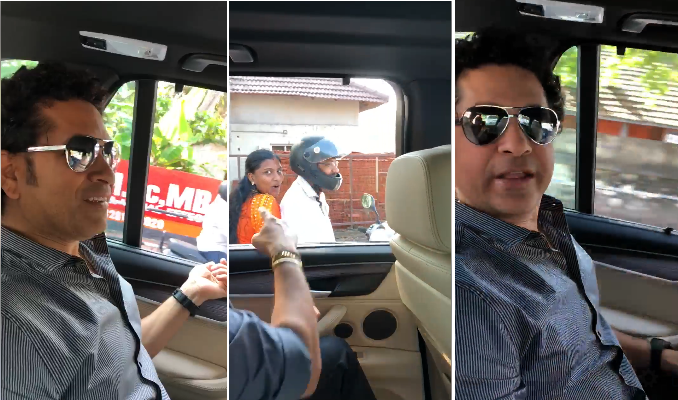 Indian cricket legend Sachin Tendulkar seems to be on a mission to bring awareness on the road safety. A few months after sharing a video of him asking fans to wear a helmet while riding two-wheelers, the cricket God has again shared another video to stress how important it is for the pillion riders to wear one as well.
Sachin was in Kerala to meet the state chief minister Pinarayi Vijayan inviting him for the opening match of the fourth season of the Indian Super League in Kochi on 17 November.
Also check: Sachin Tendulkar bowls a 'ulta' googly to Virender Sehwag on birthday
After spotting some pillion riders not wearing a helmet, the former cricketer decided to tell them directly that the pillion can get injured too during a mishap.
"Why should only the rider be wearing helmet? The two women I spotted at the back, both of them are not wearing any helmet. Doesn't make any sense to me. Please wear a helmet whenever you go on a bike. Let them come here. I am going to again tell them," Sachin is heard saying in the video. "This is what I am saying. You should be wearing a helmet even if you are sitting behind because if the rider can get injured, the pillion can as well," the owner of ISL team Kerala Blasters told a woman who was pillion riding on the back seat.
"Rider or pillion, both lives matter equally. Please, please make wearing helmets a habit. Just my opillion #HelmetDaalo2point0 #RoadSafety [sic]," Sachin wrote while sharing the video on social media and it went viral with over 5.6 million views on Facebook alone in less than a day.
However, soon after the video surfaced online, some netizens came up with memes mocking Sachin why he was not wearing a seatbelt even though he is on the back seat of the car. "Mr. Sachin Tendulkar u are not wearing the seatbelt, safety is not only for bikers it's for four wheelers too [sic]," a netizen commented.
"This is the problem in INDIA he is saying something good and you all cross question him about seat belt!! [sic]," said another.
Later, the cricketer also shared a photo of him wearing the seatbelt while travelling in the car.
"To all the people who are trying hard to find and out the negative side by pointing out the seat belt matter, rather than appreciating the effort taken by a respective person like him , should please check his latest photo in FB in which he's wearing seat belt while travelling. In this video the car is moving very slowly and I think he may have removed seat belt to speak more conveniently with those two wheeler passengers [sic]," a netizen said defending the cricketer.
Meanwhile, Sachin has also shared a photo appreciating two riders in Bengaluru, where it is compulsory for pillion rider to wear a helmet. "‪The power of two! Great going, Bengaluru #RoadSafety #HelmetDaalo2point0‬ [sic]," he wrote on social media.
Check out the memes on Sachin here:
Watch Sachin's previous video here:
-