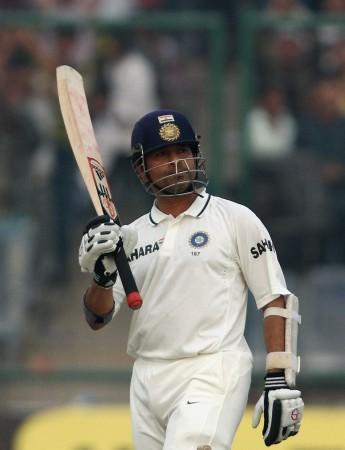 Cricket legend Sachin Tendulkar took oath as member of the Rajya Sabha on Monday, a first for an active playing cricketer to gain nomination to the Parliament House.
Soon after taking his oath, Tendulkar said that he is yet to retire from playing cricket and will seek to contribute towards all other sports in the country. "I need help from my fellow MPs. I would be happy being remembered as an MP who did something for the development of all sports and not just cricket," Tendulkar told CNN IBN Live.
Along with Tendulkar, Bollywood actress actor Rekha and businesswoman Anu Aga were also nominated to the Parliament's Upper House in April following an approval from Indian President Pratibha Patil. Tendulkar, on the other hand, had to wait until the IPL season was over to take his oat to the Rajya Sabha.
Tendulkar's nomination didn't go down well for several opposition parties who slammed the government of pushing the spotlight away from scams and instead build popularity around the cricketer.
"They [Congress] want to improve their image ...they should not play politics with Sachin," Politician Sanjay Raut from Shiv Sena reportedly told NDTV. The Congress, in turn, has vehemently disagreed, with Congress leader Rajiv Shukla saying that the nomination was "kind of honour" for the sportsman.
Activist Anna Hazare, on the other hand, voiced support for Tendulkar and congratulated him for coming onboard the political arena. "We welcome and congratulate him. Sachin should raise his voice against corruption and also against those who are not in favour of Lokpal. We will keep supporting him outside," NDTV quoted Hazare as saying.
Several other sportsmen, including chess champion Viswanathan Anand and Indian cricket team captain Mahendra Singh Dhoni, have congratulated the cricket icon for his new role.
Tendulkar had stated earlier that he would not join politics and had been keeping a distance from it but couldn't resist the offer this time. His position in the Rajya Sabha is said to be the kind reserved for people who have excelled in various fields besides politics.
Tendulkar, who scored a historic 100 international centuries in March 2012, had a stint with two political parties, the Shiv Sena and the Maharashtra Navnirman Sena, who were seeking more votes in Maharashtra around 2009. "Mumbai belongs to India. That is how I look at it. And I am a Maharashtrian and I am extremely proud of that but I am an Indian first," Sachin said according to NDTV.