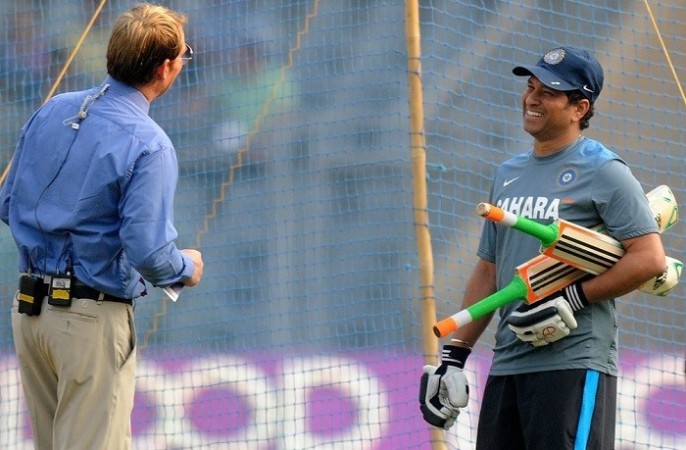 Come November, former cricketers such as Glenn McGrath, Curtly Ambrose, Brian Lara, Kumar Sangakkara and Muttiah Muralitharan are going to battle it out in the US in a three-match T20 series called the 'Cricket All-Stars Series 2015', which has been initiated by Sachin Tendulkar and Shane Warne.
The first match of the series is set to take place on 7 November as Sachin's Blasters will square off against Warne's Warriors. Cricket fans might have never seen Ambrose vs Tendulkar or McGrath vs Lara contest in the T20 format, but cricket fans in the US will have this unique and rare opportunity to witness such legends of the game in the shortest format, which did not even exist when some of these cricketers were at their peak.
Talking about such contests, Tendulkar said most of his cricket crazy fans travelled to India to get a glimpse of live cricket action, but now they have a huge chance of watching an array of stars in the US.
"That is precisely the idea of these matches. I have so many friends in the United States and there are so many people who are cricket fans. However, many of them have never got a chance to watch us live in action," PTI quoted Tendulkar as saying.
"Many of friends would travel to India to watch me play, but this will give an opportunity to all of them to watch all these superstars live in action."
Tendulkar, who retired from the game in November 2013, has started to practice for the Cricket All-Stars series as well.
The three-match T20 series is set to be played in famous baseball stadiums in the US.
Tendulkar was encouraged to promote cricket in other parts of the globe after he realised that the fans are still eager to watch them in action as huge crowds gathered to witness last year's MCC bicentenary match at Lord's.
"During last year's MCC bicentenary match at Lord's, I realised that all of us, I mean the former cricketers still have a lot of passion left. We realised that crowds still come and fill up the stadiums when we play. Then I felt that we could continue with our passion and also promote cricket in different parts of the world," said Tendulkar.