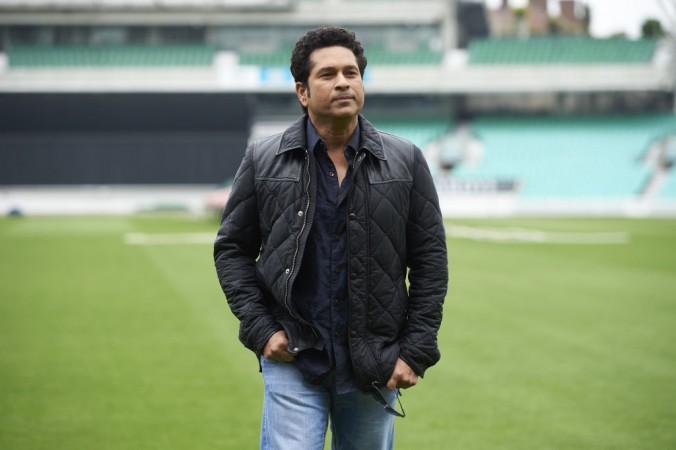 From being a starry-eyed teenager to becoming one of the most respected figures in the Indian dressing room, Sachin Tendulkar's 25-year-long career saw him scale the heights of success. The fame brought with itself the need for a lot of changes but his passion for the sport always remained a constant.
It seems, even after five years of his international retirement, the child-like enthusiasm with which he approaches cricket, especially his batting, has not diminished one bit.
In a video that has gone viral on social media, the 44-year-old World Cup-winning cricketer is seen playing gully cricket with boys near an under-construction Metro site on a street in Mumbai, the capital city of the western Indian state of Maharashtra.
Tendulkar is seen getting out of his car and greeting the boys, who are awestruck by what they were witnessing. The right-hander, who demolished the greatest bowling attacks of the world, then takes guard and showcases he is still good enough by playing a few elegant and wristy shots off his back foot.
The Mumbai hero is seen chatting with the boys and even obliges for a few selfies. The Mumbai hero is seen chatting with the boys and even obliges for a few selfies. Soon, word got out and a crowd began to gather to catch a glimpse of the Master Blaster in action.
Tendulkar's childhood friend and former India teammate Vinod Kambli took to Twitter to share the video.
"Master Blaster good to See you enjoying like old times," Kambli wrote as the caption.
Watch full video of Tendulkar playing gully cricket with boys on Mumbai street below.
Tendulkar is currently serving as the mentor of Mumbai Indians (MI), the Indian Premier League franchise for whom he played between 2008 and 2013.
The right-hander, who amassed 2334 runs in 78 matches for the three-time champions, will be hoping for an improved show from MI, who are taking on Virat Kohli-led Royal Challengers Bangalore at the Wankhede Stadium Tuesday, April 17.
Notably, the defending champions are yet to open their account in the ongoing 11th season of the cash-rich league as they lost three matches on the trot, including the season opener against Chennai Super Kings April 7.