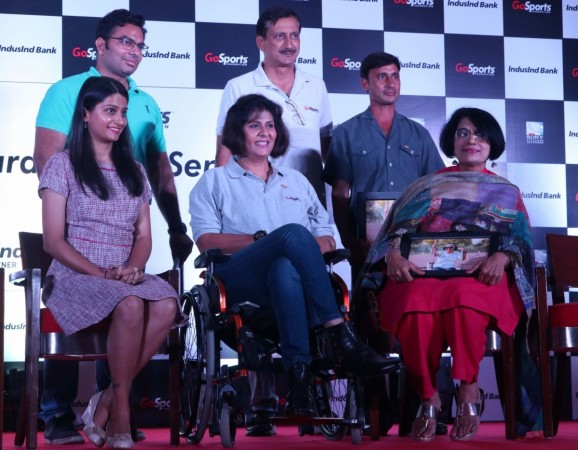 India's Deepa Malik, on Monday, created history after becoming the only female athlete from the country to win a medal in the Paralympics. The 45-year-old gifted sportsperson won the silver in the women's shot put F-52 event after she shot a personal best of 4.61m over six attempts.
The achievement gave India her third Paralympics 2016 medal. Mariyappan Thangavelu won a gold for India earlier in the men's high jump T-42 event, while Varun Singh Bhati won a bronze in the same event.
"I'm so glad that I could win the medal for my country and for all of you," Deepa said in a video she posted after winning the silver medal. "I really want to thank my coaches, my trainers, Sports Authority of India, Ministry of Sports for funding my training so beautifully. And of course, my husband and my daughters, who have been an amazing strength and motivation for me.
"Also, thanks to my friends and families for all their support."
Deepa, who was confined to a wheelchair in 1999 owing to a spinal tumour which made her paraplegic (paralysed from waist down), was congratulated by one and all for her sensational feat in the Paralympics 2016.
She will now receive a cash award of Rs 4 crore under Haryana Sports Scheme for the achievement as well as a reward of Rs. 40 Lakh from the Madhya Pradesh government. The Sports Ministry, meanwhile, had also announced the silver medallist from the games would receive a cash award of Rs. 50 lakh.
Here's how the big personalities from India congratulated Deepa Malik
Well done Deepa Malik! Your silver at the Paralympics makes the nation very proud. Congratulations. [sic]
- Narendra Modi, India prime minister
Many Congratulations Deepa Malik for your phenomenal performance at the Paralympics.. Here's to many more victories! [sic]
- Sachin Tendulkar, India cricket legend
So these exceptionally talented men and women continue to inspire the nation.Well done Deepa Malik legend [sic]
- R Ashwin, India cricket team spinner
T 2377 -Deepa Malik .. you made all India proud by winning the Silver at the ParaOlympics .. Such an emotion to see the Tiranga go up ! [sic]
- Amitabh Bachchan, legendary Indian actor
Hearty congrats Deepa Malik for winning silver medal in Rio Paralympics for shot put, whole nation rejoices at your achievement [sic]
- Pranab Mukherjee, President of India
Here are the videos of Deepa from the Paralympics 2016